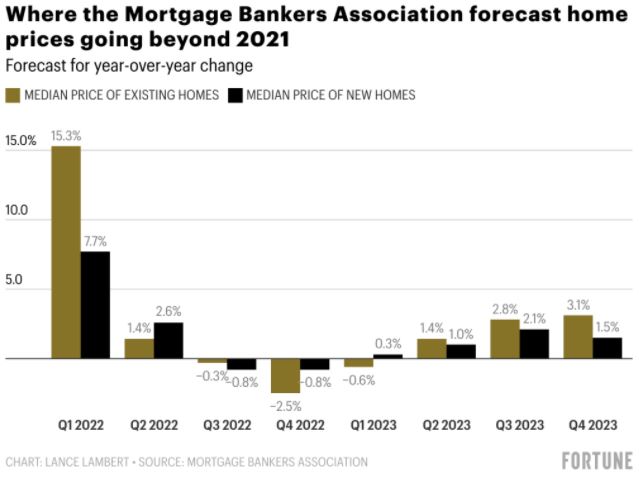 This forecast suggests that prices would still be cooking in 1Q22, but once the spring selling season gets rolling, the median prices will level off? It would take a flood of inventory to pull that off.  They blame rising rates, but when that happens it usually causes buyers to hurry up and buy. As long as mortgage rates are in the 3s, we'll be fine.
It was inevitable that the housing market would slow down a bit. After all, home prices can't continue to outpace income growth by a 4-to-1 ratio forever, right?
However, even as the market has seen some softening so far, price hikes and bidding wars are still ongoing across the U.S. And the industry consensus is that whatever cooling comes next year, it will slow—but not stop—the continuing rise in home prices.
However, that assessment isn't shared by the Mortgage Bankers Association, an industry trade group based in Washington, D.C., which recently published its 2022 forecast. While the Mortgage Bankers Association foresees the median price of existing homes posting a 15.3% year-over-year gain to $362,000 in the first quarter of 2022, it sees prices beginning to fall as the year progresses. The group expects the median price of existing homes to end 2022 at $352,000. That would represent a 2.5% year-over-year drop in home prices.
What's going on? A lot of it boils down to inflation—or what higher inflation means for the market.
The latest reading of the consumer price index in October made it clear that stubbornly high inflation could be around longer than economists were assuming. That has increased the odds that the Federal Reserve will raise interest rates, and thus mortgage rates, as a means of reining in inflation. A rise in mortgage rates—which have dropped to near record lows as the Fed kept money cheap to ease the economic effects of the pandemic—would lock some buyers out of the market altogether and put downward pressure on prices.
The Mortgage Bankers Association is forecasting that the average 30-year fixed mortgage rate will hit 3.7% by the third quarter of 2022, and 4% by the end of 2022. That would be a big increase from the current 3.09% rate, and is well above the 3.4% rate that Fannie Mae projects by the end of 2022.
Link to Article