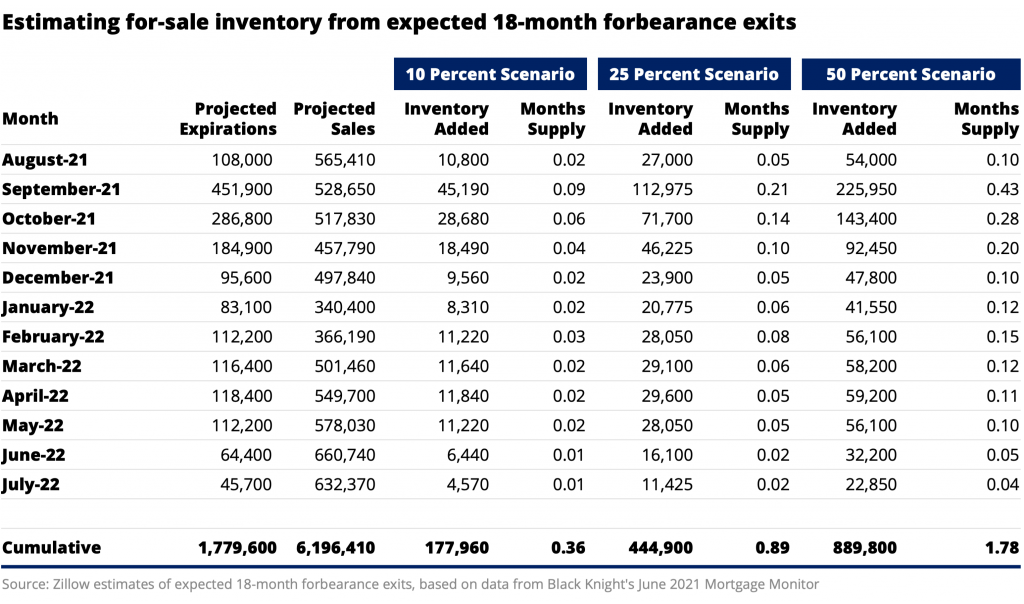 Hat tip to GW and AK who sent me an article by Fortune, that references this article:
https://www.zillow.com/research/forbearance-exits-inventory-2021-29931/
An excerpt:
With expiration of a broad federal foreclosure moratorium on July 31, hundreds of thousands of U.S. homeowners are expected to exit forbearance in coming months. A significant share of these homeowners will likely end up listing their home for sale, contributing meaningfully to overall inventory levels and allowing homeowners in forbearance to benefit from home price appreciation and use the equity gained for a future down payment, according to a Zillow analysis.
Unlike 2008, when financial conditions and a souring housing market pushed many homeowners into involuntary foreclosure, strong equity growth and a robust sellers market are likely to ensure that even distressed homeowners have more options and the housing market is likely to be insulated from widespread disruption.
The largest wave of forbearance exits is expected in September and October of 2021, and Zillow projects that forbearance exits will lead to an additional 0.40 months of housing supply in August – October of 2021, a 15% increase relative to 2.6 months of supply in June. For context, this additional 0.40 months of supply roughly means an extra 211,700 homes for sale, which would represent 13.1% of all predicted sales over the next three months.
I hope those in forbearance do list their home for sale – call me today!
The NSDCC market is starved for inventory – look at the differences:
September 14, 2020:
654 active listings
481 pending listings
September 13, 2021:
316 active listings
304 pending listings
Last year we had more than twice the number of active listings as we have today! We can handle more!
But the foreclosure laws in California were significantly modified and nobody is going to get foreclosed – so don't wait around for that to happen. The most likely scenario is for the lenders to continue the free-rent program for another year or two, and only lightly suggest a potential sale to those not paying their mortgage – which will only sprinkle an occasional new listing upon us.