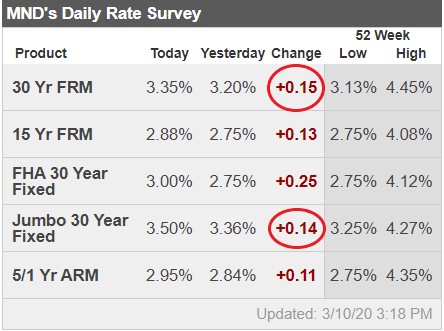 Did you lock? If not, you only lost an 1/8% (or so) today.  Tomorrow!
Mortgage rates have exploded higher over the past day and a half as the bond market sends threatening signals about a big picture bounce off the recent lows.  This is made all the more jarring by the timing and the scope of the movement, as well as the circumstances surrounding it. What does that mean?
First off, the scope is huge, considering the 10yr Treasury yield (the most widely cited benchmark for the bonds that underlie mortgage rates) hit 0.318% late Sunday night.  While the 10yr doesn't dictate mortgage rates, its movement speaks to the general momentum for all longer-term rates in the US.  0.318% was more than 1.0% below the previous all-time low seen in 2016, and it only took 8 business days to cover that entire 1.0%.
The drop in Treasury yields coincided with decent pricing in the mortgage-backed-securities (MBS) that underlie mortgage rates, which in turn allowed lenders to offer all-time low mortgage rates at some point in the past several business days.  For many, it was first thing Monday morning.  For others, it was in the previous week.  Either way, the average lender has been at or near all time lows on a few occasions over the past 6 business days.
This is why the move is jarring.  From all-time lows early yesterday morning, rates have moved up to the highest levels in more than a week for most lenders.  The average lender had been able to quote rates as low as 3.125% during the best few hours, but they're now back up in the 3.375% neighborhood.