Everyone is getting into the home-buying business.  First it was the well-funded disrupters like OpenDoor and Offerpad, and then Zillow, Redfin, Knock and others jumped in – which caused Coldwell Banker, Keller Williams to also announce their programs (plus Compass and others won't be far behind).
What will the real estate world be like if sellers have multiple choices of cash buyers?  Which ibuyer will have the advantage?  Zillow is already in the driver's seat, and they include the additional service of offering a third-party realtor's opinion too.
From Mike DelPrete – an excerpt:
Zillow announced its Zillow Offers program in Phoenix earlier this year, and started buying houses in May. It is heavily promoting the program across its site. While looking in the Phoenix market, a prominent message is displayed on all active for sale listings.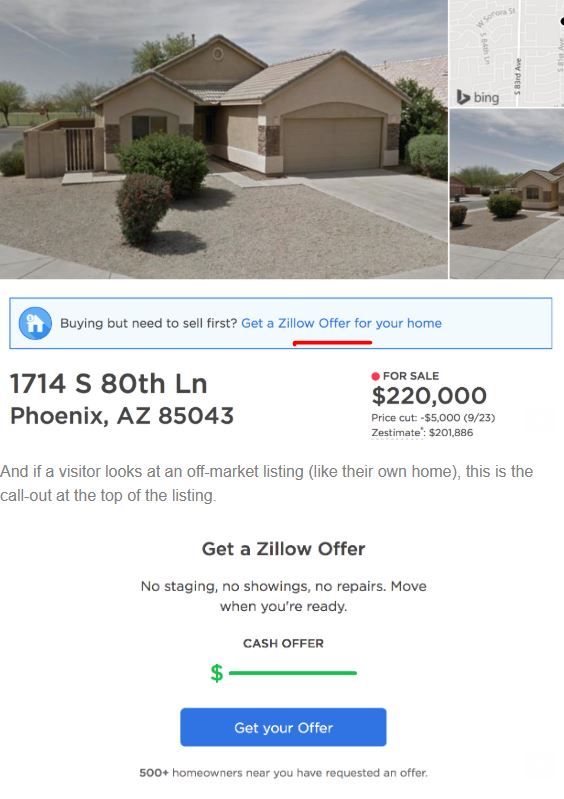 In its latest quarterly results, Zillow revealed how effective the promotion was: "Since launch, we have received more than 10,000 offer requests from potential sellers." And: "…in Phoenix, for example, we are seeing about 15% of all dollar value that's being sold in Phoenix any given month." That translates to about 1,600 offer requests per month.
Opendoor is on record saying that more than "one in two sellers who received an Opendoor offer" will accept it. It's currently buying around 300 houses per month in Phoenix, so that's about 600 offers made per month.

There's a difference between an offer being requested, and an offer being made. What's clear, though, is that Zillow is generating a massive amount of offer requests each month, at volumes that rival (and exceed) Opendoor.
Most importantly, Zillow's leads are coming with zero incremental customer acquisition cost, while Opendoor and other iBuyers must advertise directly to consumers to generate leads.
They aren't in San Diego yet, but it's coming. Read Mike's full article here:
http://www.mikedp.com/articles/2018/10/8/zillow-opendoor-and-controlling-the-consumer-journey