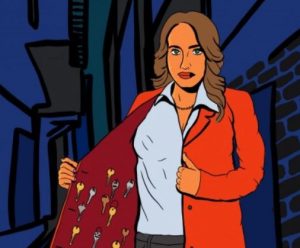 If the uber-elite believe they need the privacy and are willing to leave mega-money on the table, then fine – pocket all you want.  But the typical seller is better served by open-market exposure.
All brokerages are getting into the game, and before long, pocket listings could be the standard, which puts those who aren't connected on the sidelines.
Buyers who feel a slowdown (and who wonder where the values really are) should proceed with caution when offered an off-market deal – how do you know if the price is right if it never hit the open market?
Do you have a trench coat?" the real estate agent asked, only half joking. The listing he was about to describe was so hush-hush that he and other agents had been required to sign nondisclosure agreements just to obtain the address. In order to get the broker's tour of this supersecret, $16 million–ish Russian Hill home, I'd have to agree to keep quiet on the pertinent details—and maybe wear my best Deep Throat disguise.
Sound crazy? Not in housing-mad San Francisco, where mum's the new buzzword in real estate. As many as 20 to 30 percent of agents' high-end listings are now totally underground. That means no advertising, no listing sheets, no email blasts. In place of open houses, sales tactics for these homes include password-protected websites, phone-call-only marketing campaigns, and, as I found out, NDAs.
Alternatively called whisper, private, or pocket listings, this secretive sales method is increasingly common in the Bay Area, especially among wealthy, privacy-obsessed sellers intent on keeping their names and asset valuations away from prying eyes. Gregg Lynn, an agent with Sotheby's International Realty, says that about half his listings these days aren't officially on the market—and his clients' rationales for doing it that way run the gamut.
There are pre-IPO tech founders who want to keep speculation about their financial outlook to a minimum; or Sand Hill Road types trying to project an air of modesty. And then there's that oh-so-Silicon-Valley notion that building a whisper network of potential buyers gives a home a level of intrigue, and buzz, that's priceless. "It's like if you're in a wine club: Are you in the basic wine club, or do you get invited to the exclusive events?" says Rachel Swann, a Noe Valley–based agent with the Agency, a luxury real estate firm with offices in Los Angeles and San Francisco. "People like that. Especially at the high end."
In a typical home sale, agents upload information about a property to the local Multiple Listing Service, or MLS, as soon as the house is photographed. That info—photos, specs, property history—is then distributed to dozens of websites, including Redfin, Trulia, and Zillow, where it's publicly available. To the would-be anonymous seller, however, that's simply too much data for the world to see. And they're willing to trade the extra half a million the house might fetch in a heated bidding war for the peace of mind that comes with privacy. "I try to make sure clients understand it doesn't necessarily help them price-wise," agent Nina Hatvany says of pocket listings. "It's nice for other reasons. But does it get you the price? Probably not."
In the nation's most overheated housing market, that's not necessarily a huge concern. Joel Goodrich, of Coldwell Banker Global Luxury, recalls selling a whisper listing for over $10 million with a single phone call. This year alone, he's done three off-market sales, all in the $7 million–to–$10 million range. "Clients like the fact that it's not all over Zillow and Trulia," he says. Hatvany, an agent with Pacific Union International's San Francisco office (it also has locations in Los Angeles and Lake Tahoe), says that while only 3 of her 24 sales so far in 2018 have been off-market, they've made up a third of her total sales volume, as each was priced above $9 million. She says she's handled a few sales so private that she never even met the sellers. Instead she dealt with lawyers and estate managers; such homes' ownerships are often cloaked in LLCs.
Private listings can also hold appeal for sellers who aren't dealing in the eight-­figure price range. For instance, if a house languishes on the market too long, that can signal trouble to buyers—especially in the Bay Area, where properties routinely sell within days of being listed. "If something sits for two or three weeks in San Francisco, people say, 'What's wrong with it?'" says David Faudman, the CEO of Top Agent Network, an organization for the Bay Area's top 10 percent of real estate agents by sales volume.
An off-market listing avoids that problem by taking the ticking time bomb that is the "Days on Market" clock out of the picture. It can help conceal a price cut, too, allowing sellers to ask for more money, at least at first. That's another reason that the strategy is so popular at the top of the market, where home values can be highly subjective. "A $10 million home could go anywhere from $9 million to $11 million," Goodrich says. A premarket whisper campaign allows agents to elicit feedback from potential buyers and adjust accordingly, without an embarrassing price cut on the listing.
Lately, however, private listings have gotten less, well, private. Several websites are now advertising purportedly off-market listings. Last August, the Agency launched a tool called the Pocket Listing Service. It operates much like an MLS but is accessible only to real estate agents—thus expanding the number of potential buyers while still keeping a home's info mostly quiet.
This summer, Pacific Union is launching a similar website, called Private View, in the Bay Area. The site will give buyers a limited peek at private listings while sellers make repairs or have their home staged—usually for one to three weeks. "Especially in a hot market, it's nice to get a little head start," says Patrick Barber, Pacific Union's president.
This summer, Lynn, the Sotheby's agent, agreed to show me one of his private listings. Even though I left the trench at home, I was allowed in to see the two-bedroom, two-and-a-half-bath condo with 11-foot ceilings and sweeping views of the bay on the conditions that I keep the owners' names quiet and not take photos. The $2.2 million home is in the Francesca, a lovely circa-1923 building behind the Fairmont. Lynn says the owners, a high-profile venture capitalist and a financial-tech executive, are moving out of town and are hoping for a private sale because "they don't want to be in the public eye."
While we were there, Lynn told me the story of one of his more challenging private listings. In 2016, prominent venture capitalist Tom Perkins died, and Lynn was charged with finding a buyer for his 60th-floor penthouse inside Millennium Tower—during the peak of the media firestorm surrounding the sinking building.
A public campaign to sell the home—full of disclosures, price history, and so on—would only fan the flames. "We decided not to be the next big story about Millennium Tower," Lynn said. Instead he built a private website, shot a video of the residence, and shopped it around without a price tag. (Perkins had paid $9 million for the penthouse in 2009 and spent another $9 million on renovations.) After a few months of quietly putting the word out, the penthouse went for $13 million. There was no need to cast too wide a net, anyway: Lynn sold it to the downstairs neighbor.
https://modernluxury.com/san-francisco/story/inside-sfs-secret-real-estate-market