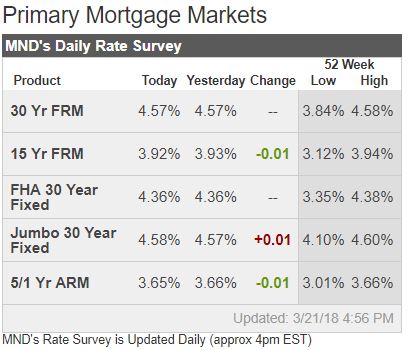 Mortgage rates were jittery but ended up back where they started today.
Mortgage rates rose to new 4-year highs this morning as lenders took a defensive stance ahead of the afternoon's Fed Announcement.  The caution proved to be warranted, at least at first, as bond markets reacted negatively to the first phase of Fed-related information.
Notably, the Fed Announcement itself wasn't the issue.  If anything, it was moderately friendly for rates.  Instead, it was the Fed's rate hike outlook (released concurrently with the policy announcement) that did the damage.  But again, we're talking about underlying bond markets here.  Lenders' rate sheets already reflected that damage preemptively.
When new Fed Chair Jerome Powell began his press conference half an hour later, bond markets (which underlie rates) began to improve.
Just over an hour after the initial drama, bonds moved into moderately positive territory on the day and most lenders offered positively-revised rate sheets (i.e. stronger bond markets allowed mortgage lenders to drop their rates).  After those reprices, the average lender returned in line with yesterday's rates (which are still pretty close to 4-year highs, but a welcome sight after this morning's offerings).
Link to Article