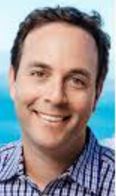 Spencer took a crack at Redfin yesterday, and more:
An excerpt:
Zillow Group CEO Spencer Rascoff isn't worried about the threat of newly-public Redfin — but he thinks the rest of the real estate industry should be.
He made that clear during a conference call associated with Zillow's second-quarter earnings Tuesday in which he went so far as to say that Redfin is a "threat" to the traditional real estate industry.
"Undoubtedly, one of Redfin's goals is to obviate the buyer's agent," Rascoff said on the call. "I think they have stated, quite publicly, that they aim to acquire more listings inventory in given markets, and then have no buyers' agents on the other side of those listings. And that is a threat to organized real estate, and that's one of the many reasons why brokerages are so concerned about Redfin."
With N.A.R. on the sidelines, traditional realtors won't mind somebody taking up the fight against Redfin – and Spencer could wind up being the hero!'
In this era of fake news, we can expect both sides to continue their bending of the facts too, which could get ugly.  Who will consumers believe?