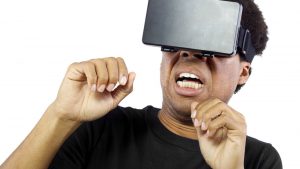 Our Zillow rep mentioned that they are investing heavily into virtual reality. (He's reading the blog now – hey Jason!)
I'm a big proponent of video tours – there is no better way to help remind buyers of what they are thinking of purchasing.  We have seen the 3D tours hit the mainstream, and the virtual reality experience can't be far behind.
Will we see an evolution of how homes are sold?
For that to happen, we would need a sea change in the realtor community.
Currently, the whole real estate industry is focused on representing sellers, and making buyers comply with their every wish.  There would need to be a buyer revolution for it to change.
I've already had sellers object to their home being so transparent. They don't want buyers to see every nook and cranny, especially if their house is less than perfect.
While the virtual reality devices may provide some whiz-bang effect, don't be surprised if they are slow to take hold.  Sellers and listing agents would rather tempt you with a select group of photos, and disappoint you with the truth once you arrive.
Zillow and others will push the virtual reality toys, and try to convince buyers that those who possess them are superior agents. But there won't be widespread use, and it will end up just being another gimmick.