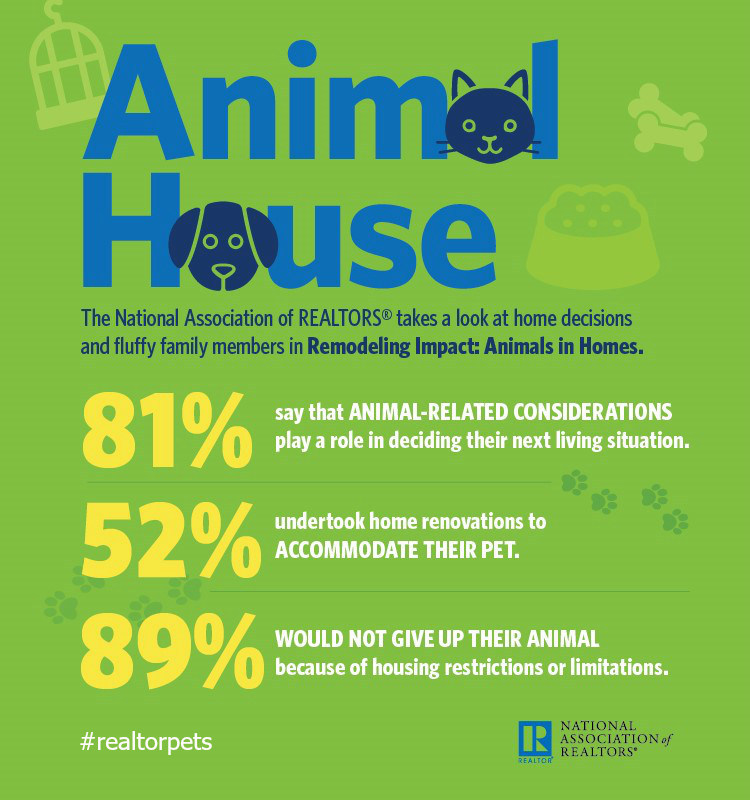 Animal Owners:
Ninety-nine percent of pet owners feel that their animal is part of the family

.

Eighty-nine percent of those surveyed said they would not give up their animal because of housing restrictions or limitations.

When finding a home, 95 percent of animal owners believe it is

important that a housing community allows animals and 81 percent of

U.S. households say that animal-related considerations will play a role in

deciding on their next living situation.

Twelve percent of pet owners have moved to accommodate their animal.
According to REALTORS®,

61 percent of buyers who own animals say

it'

s very

difficult or difficult to find a rental pr

operty or a home owner

association that accommodates animals.
When it comes to selling, 67 percent of Realtors say animals have a moderate to major effect on selling a home. Approximately two-thirds of Realtors say that they advise animal owning sellers to always replace things in the home damaged by an animal, have the home cleaned to remove any animal scents and to take animals out of the home during an open house or showing.
Nearly half of all survey respondents, 52 percent, indicated that they had completed a home renovation project specifically to accommodate their animal. Of those who undertook projects, 23 percent built a fence around their yard, 12 percent added a dog door and 10 percent installed laminate flooring. Ninety-four percent of consumers indicated that they were satisfied with their renovation; 58 percent indicated they have a greater desire to be at home and 62 percent enjoy spending more time at home since completing their renovation.
https://www.nar.realtor/reports/remodeling-impact-animals-in-homes