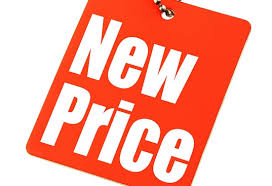 A reader noticed some list prices being raised, and wondered why.
Here are my guesses:
 There were a flurry of showings, and the sellers panicked, thinking they were giving it away.
 Agent is playing around with it.
The MLS hotsheet is where agents get to peruse the new listings of the day, and any price changes.  Listing agents who want some fresh attention will change the price in order to get on the hotsheet – but if the sellers don't want to lower, then raising the price will get you on the hotsheet too.
But it sends the wrong message – primarily that the sellers and/or agent are lowly motivated, unrealistic, or difficult to work with.
Yes, every seller has the right to raise their price, but know that it is a turnoff to buyers and agents.  If an agent wants to get on the hotsheet that bad, they can lower the price by a little as one dollar.  It is just as annoying as a price increase, but at least you are going in the right direction.
We are in all-time record territory price-wise, with inventory conditions that we have never seen before.  I don't think anyone knows for sure how this will play out, and the higher the price, the less an agent should play around.
Forget the price increases, the crazy-wide price ranges, difficult showings, and outrageous demands like free rentbacks for months, etc.
Make it easy for buyers to pay top dollar!