As you may know, there are multiple lawsuits pending that accuse realtors of price fixing, and it ain't looking good for us. Here is evidence provided in court – thanks Rob:
The Franchisor Defendants provided training to brokers which directed them to offer a 6% commission rate, to be split equally among the Seller-Broker and the Buyer-Broker. The Franchisor Defendants used this 6% commission rate split in educational transaction models.
For example, Re/Max training documents instructed brokers to develop their "Economic Model" and "define the 'average' commission that will come from each of their closings," including an example of a 6% commission rate per transaction, split 50/50 between the Seller-Broker and Buyer-Broker.
Similarly, Keller Williams trained its brokers to develop an "economic model" which provided a "standard 6% commission" rate per transaction, split 50/50 between the Seller-Broker and Buyer-Broker.
Additionally, the HomeServices Defendants circulated training materials from Intero, a California subsidiary, that instructed brokers to "always have 6% written in on ALL listing agreements" and, if they "have to give something," to "remember they always have to pay [the Buyer-Broker] a minimum of 2.5%."
Further, the Franchisor Defendants trained brokers to never lower their rates. For example, Re/Max trained brokers to "have the commission typed into the listing agreement" before speaking to Sellers, and to tell Sellers "'This is what my company charges.'"
Re/Max franchises must "maintain . . . quality," including avoiding "discounting rates," or the franchise may be sold.
Keller Williams provided brokers with scripted responses to requests to lower commissions, stating that brokers "require a full 6 percent" to "do the advertising that they do" and that a "discount rate will not provide you with enough exposure to get you top dollar."
Realogy acknowledged that its franchisees compete with one another, and instructs franchisees to "avoid any action or discussion intended to eliminate or restrict competition" including discussions of "commission structures." However, Realogy provided training to its franchisees and subsidiaries regarding commissions and trains its agent to tell clients they cannot cut commissions. [Citations removed, and edited for legibility and clarity.]
This probably didn't help much: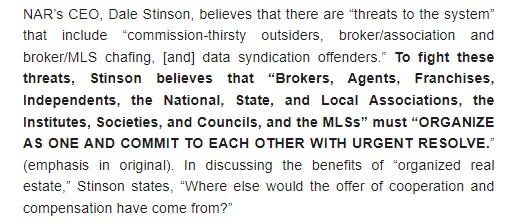 The next court date isn't until October, and undoubtedly there will be an appeal, so it will be a year or two before the case is done. The likely results will be that sellers won't be obligated to pay the buyer-agent commissions. Not sure if that will reduce them, or eliminate them, but this will likely be the big commission disruption that has been expected by outsiders.