This article gets into the usual topics for those trying to forecast the future:
https://www.investopedia.com/what-housing-experts-anticipate-for-the-last-half-of-2023-7555067
Their experts think that mortgage rates will ease for the rest of the year, which will cause the inventory of homes for sale to increase. Apparently they are stuck on the whole golden handcuffs theory of why inventory is ultra-low, and when rates drop, then everything will be fine.
Here are their two quotes on the direction of home pricing:
Weak home prices are expected over the summer months, when they are typically at their peak, according to Realtor.com's Hale.

"Specifically, while June is expected to be the seasonal peak for home prices in 2023, like it is most years, we won't see as big of a month to month climb as we did in 2022, which will mean ongoing mild declines when we're comparing home sale prices to one year ago," Hale said.

The declines are expected to run through the early fall, depending on the Federal Reserve.

"By the time we get to the fourth quarter, mortgage rate and seasonal home price relief could be enough to stanch the declines" Hale added. "On net, we expect average home prices in 2023 to fall 0.6% compared to 2022."

As supply boosts and mortgage rates and home prices fall, sales are expected to rise through the end of the year, according to NAR's Yun.

"We're likely approaching the bottom in home sales with steady improving home sales in the second half of the year and into 2024," Yun said.
None of their experts (including Robert) offer any data to support their cases, and are just guessing.
Let's dig a little deeper into the topic, shall we?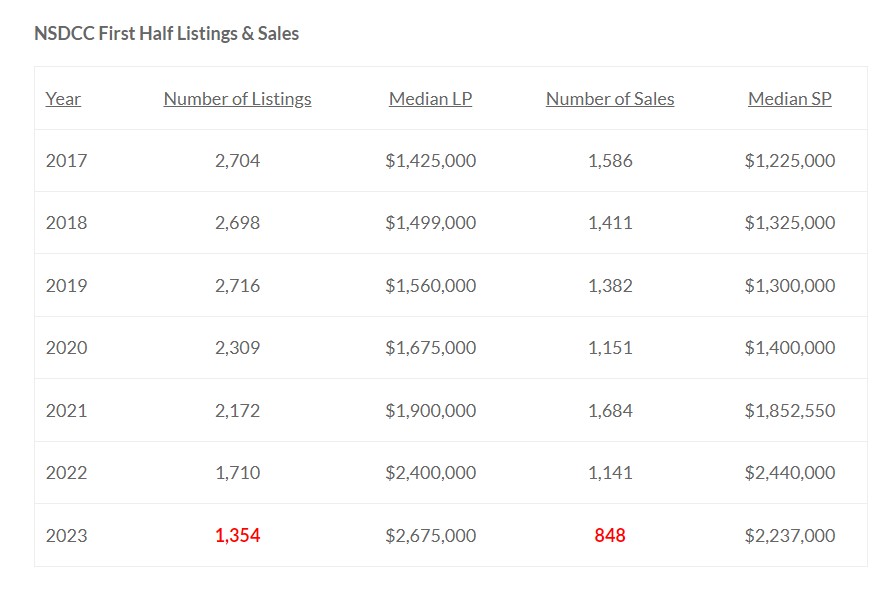 To say that the current market conditions are unprecedented is putting it lightly.
NOBODY HAS EVER IMAGINED LISTINGS AND SALES BEING HALF OF WHAT THEY USED TO BE!
But that's where we are.
The huge gap between the 2023 MLP and MSP suggests that buyers are unwilling to pay the higher prices, but pricing was sluggish in the first two months of the year so there was some lag – just like in 2020 when we had a couple of months of pandemic trouble.
Buyers should really be picky in the off-season, so any thoughts of sales increasing are optimistic. With only the creampuffs selling, pricing should keep rising, except in areas where the only homes for sale are the scratch-and-dent/fixers and where unscrupulous agents doing their dirty work (this is more of a problem for pricing than you might think).
Fewer comps means that one or two sales in either direction will impact the prices for the rest of 2023.
Here's an example – our La Costa Valley Six had a listing on Sitio Caucho hit the market on June 14th, and it promptly went pending within seven days:

At first, you might think that the new pending sale should close above $2,200,000 and that trend would be bolstered. But Vista Acedera has gotten tired of being left behind, and on Monday they lowered their price from $2,125,000 to $2,050,000.
What's the trend now?
Lowering their price was smart because they have been on the market since the end of April and summer will be over before you know it. They really want to be the next home to sell – but what will that do to the others left for sale, and the other new listings to come between now and the 2024 Selling Season?
Get Good Help!