The local market between La Jolla and Carlsbad has seemed fairly healthy lately, and in better shape than last year at this time when we were still getting over the shock or higher mortgage rates.
How will the rest of the year turn out?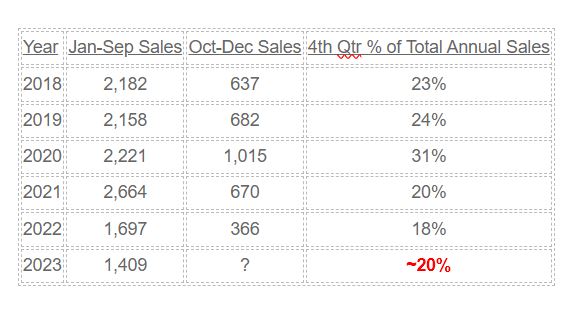 If the fourth quarter of 2023 ends up at 20% of the total annual sales, then we will have around 350 NSDCC sales over the next three months. We can guess that there might be 130 closings in September, 120 in November, and 100 in December. Roughly, and if we're lucky. There are only 142 pendings today.
It will be the worst fourth quarter ever.
In 2007, we had 460 closings in the fourth quarter, and in 2008 we had 461 closings. By 2009 the market was already on the upswing, and there were 671 4Q closings between La Jolla and Carlsbad.
Most people will sit this one out. Mortgage rates will probably keep rising, and likely hit 8% in the next week or two – with no hope of coming down anytime soon. The inventory of homes for sale will be full of listings that have been picked over for months, and unless those sellers drop their price substantially, there won't be much hope for them. An occasional new listing will spark interest and still have a good chance of selling – if they staged it perfectly and listed with an attractive price. How many of those have you seen lately?
We saw some successful fourth-quarter lowballing last year where sellers dumped 10% or more on price to get out, and we'll see more this year! But only for those buyers and agents who cause it to happen.
Stay in the game and Get Good Help!