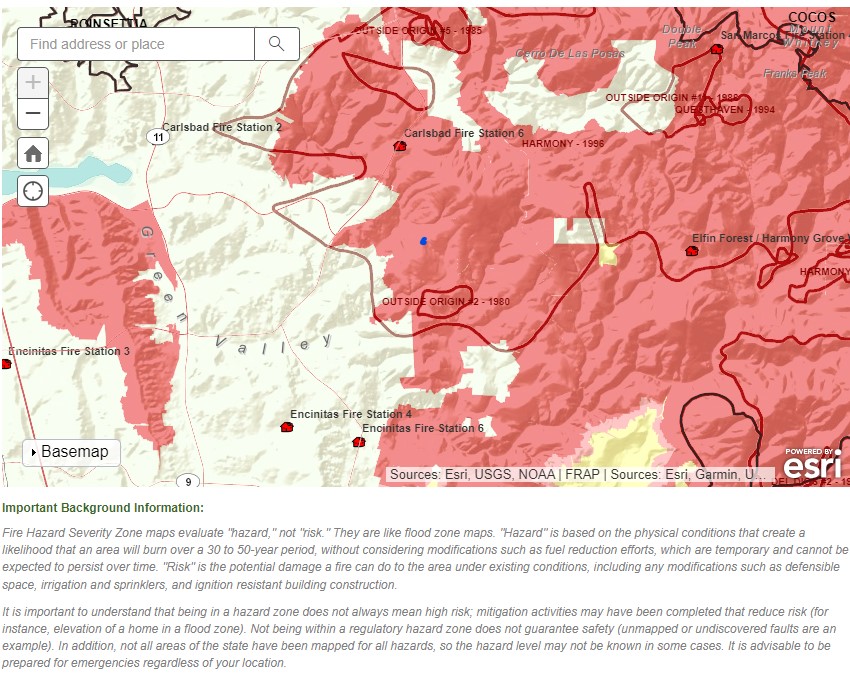 Here is a wider look at the fire map for Encinitas/Carlsbad.
The blue dot is the location of my listing in La Costa Oaks; a neighborhood of 820 homes built in 2005-2013 (long after the Harmony Fire of 1996).  The newer homes were built on the outskirts of town, so if you prefer a recently-built home, it's very likely that it's going to be in the fire zone.
For those who can't find a traditional insurance carrier to provide fire insurance, there is the California Fair Plan.  Here's a quote from a Liberty Mutual agent:
Regular homeowners policy (liability, theft, etc.): $1,700 per year.
CA Fair Plan (fire): $3,500-$5,000 per year, depending on the deductible amount.
My sellers' policy (with fire coverage) with Mercury Insurance is $3,500 per year, so the additional amount with the CA Fair Plan is approximately $3,200 per year if you like a lower deductible.
Homeownership is expensive.  If you want a newer house, it's likely to be located in the fire zone and be more expensive to insure. If you buy an older home, you'll probably spend the same or similar amount having to update/improve it every year to bring it up to today's standard. It's your choice!