We are witnessing the demise of buyer-agents.
The squeeze is coming from several directions, and all are rooted in the fact that there isn't enough business to go around. Thankfully, half of the realtors are of retirement age, and will drift away naturally.
The pending class-action lawsuits will likely de-couple the commissions, and sellers won't be paying a bounty to buyer-agents like they have since the beginning of time. Agents who can justify their value and services can always contract with buyers, and we'll see where that goes. But it won't go very far.
There are also forces within the industry that are deliberately putting the squeeze on.  Opendoor has developed a nice little package of exclusive listings presented to buyers at a 2% savings if they don't mind just placing their order online:
https://datadoor.io/articles/game-of-homes-opendoor-exclusives
Because the people who put this together have never been realtors, it never occurs to them that paying a buyer's agent has value. Homebuyers who get good help are going to feel more comfortable paying more the home, and conversely, with no help, they will want to pay less to compensate.
Is the tease of a 2% discount enough? We will see.  But it's another example of the pressure to squeeze out the buyer-agents, and Opendoor thinks they are passing the savings along to the buyers.  But does any seller want to have buyers floating around, hoping to figure out the buying details on their own and cope with buyer's remorse? No! It's why the I-Pay-One companies never last because they don't get it – buyers need and want help.
Instead, what has developed during a raging seller's market is the thought that eliminating buyer-agents is a good thing.  The message is clear – we don't respect what you do, we don't think we need you, and we don't care what you think about it.
Redfin has no respect either.
On homes that they own – and can pay any rate – they are down to 1.75%: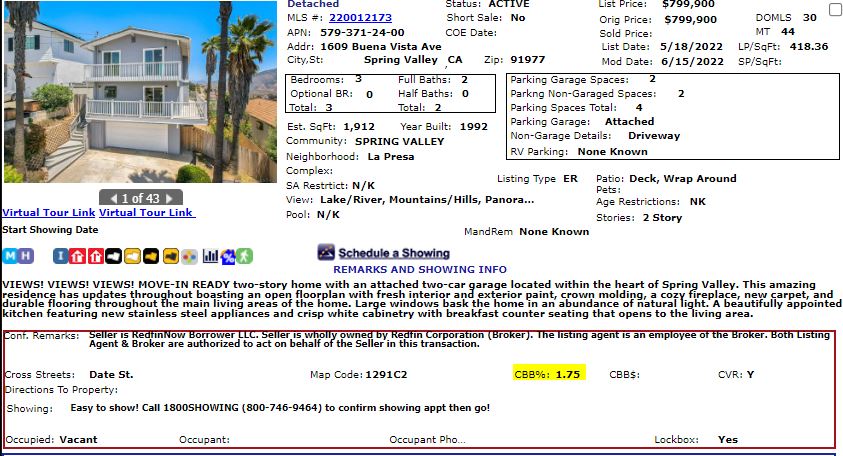 They are giving buyer-agents the double middle-finger salute, and they don't care what you think about it. Another option would be for them to pay a healthy commission and earn some respect for themselves, but that doesn't occur to them either.
It would be worth it to champion the value that buyer-agents bring to the table, but nobody appears interested in that angle.  Instead, they think the cost-cutting somehow justifies it, without considering – if it results in buyers paying less, then did you get anywhere?