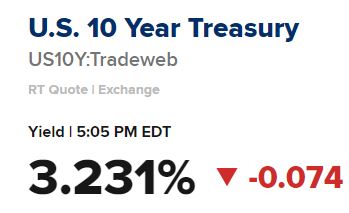 Over the last few decades, the 30-yr fixed mortgage rate has run at 1.75% over the 10-yr yield – which if true today, it would put us at 5.0%, instead of 6.0%. Here's what the MND thinks about the bond yields:
As for Treasuries, yields are now high enough as to be pricing in virtually all of the expected Fed rate hikes over the next year.  Once that happens, the only way for them to go much higher is for the data to deteriorate further.  Bottom line: if we can avoid upside inflation surprises like last Friday's, we may have just seen the highest rates of the year.
If the bond yields settle down (the 10-year was 3.48% on Monday), and bring in more MBS buyers, then maybe the mortgage companies can give up the extra 1% spread they are sitting on today. Our chances of survival will be much more likely with 5% mortgage rates, then 6%!
Read full article here:
MND Article