Even though real estate is local, the homebuyer psychology tends to be similar across the country – mostly because people are people, and have similar reactions to every variable.  When they see mortgage rates go from 3% to 5.5% in less than six months, it's only natural to want to pause and see where this goes.
But the desperation among buyers – especially those who are out-of-towners and don't own a home here yet – hasn't changed, due to the low inventory.  It is unsettling to see so few of the quality homes coming to market, and they want/need to stay in the game so they don't miss out.  It would take a flood of new listings to change that, which isn't happening. At least not yet.
Let's have the statistics help guide us on current market conditions.
1. We have considered the local real estate market to be 'healthy' when the active listings to pendings has been 2:1 ratio. Here are the detached-home listings between Carlsbad and La Jolla:
Monday:
Actives: 262
Pendings: 207
Thursday (today):
Actives: 262
Pendings: 202
The current ratio is very healthy, and the actives aren't exploding.  Last year at this time there were 330 active listings, so only having 262 homes for sale in an area with a population of 300,000+ people isn't bad. The only startling part is that there aren't more homes for sale!
~~~~~~~~~~~~~~~~~~~~~~~~~~~~~~~~~~~~~~~~~~~~~~~~~~~~~~~~~~~~~~~~~~~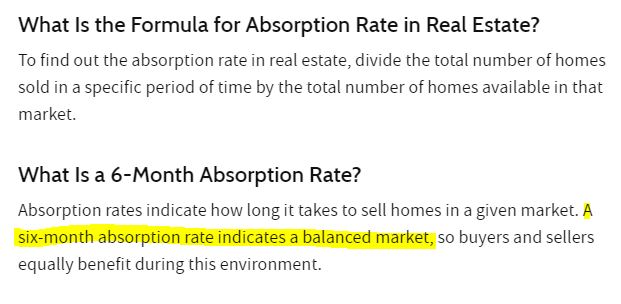 2. Let's talk absorption rate, another measuring stick for the health of the market.  The historic norm for a healthy market has been a 6-months' supply of homes for sale.  In recent years, a 3-month supply has seemed to be more realistic, just because the supply has been limited.
What is it today?
There were 225 sales in April, so the 262 active listings is only a 1.2-month supply.  We would need 675 active listings to have a three-month supply, which sounds impossible in the current environment.
~~~~~~~~~~~~~~~~~~~~~~~~~~~~~~~~~~~~~~~~~~~~~~~~~~~~~~~~~~~~~~~~
3. How about the market time of the current pendings?  Is it taking longer to find a buyer these days?  Yes.  The median days-on-market for homes sold in the early months of 2022 has been nine days.  The current pendings have a median days-on market of 12 days, which isn't alarming and still extremely low.
~~~~~~~~~~~~~~~~~~~~~~~~~~~~~~~~~~~~~~~~~~~~~~~~~~~~~~~~~~~~~~~~
4. Have the number of actives and pendings been consistent in 2022?
Yes, especially the pendings: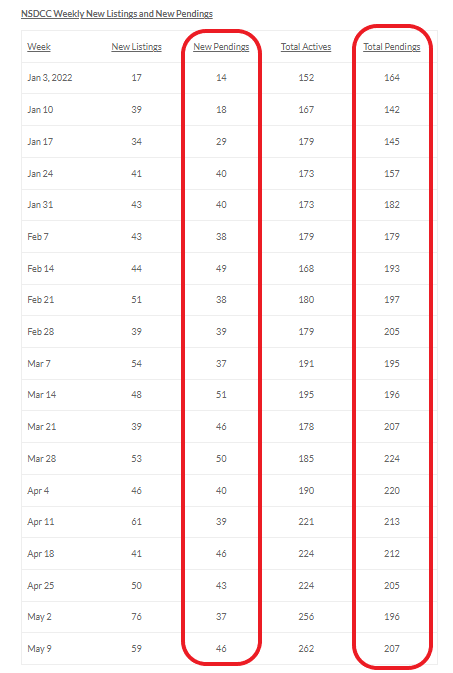 So while there is talk about a shift in the market, it may just be a pause. Statistically, the market looks steady – there isn't a surge of unsold homes, and there are still plenty going into escrow every week.
If there aren't as many buyers looking, and there aren't crazy numbers of offers, then it's just going back to a more-normal market. Not normal yet, but heading that way.
The list prices have been on a rampage, and it's probably time for them to stop going up so much every month. It was going to happen sooner or later, and that day has probably arrived – finally!