At some point over the last 6-12 months, Zillow started revising their zestimates higher – way higher!
It has been noticed too, and now virtually every potential seller brings their zestimate to the table, and expects to list their home for that amount……or more.
But in the latest Zillow forecasts by zip code, they have SCALED BACK their big percentage increases!
Are they scaling back the zestimates too? If not, the list pricing for the rest of 2022 will be frothy.
Here are their current forecasts, with the previous forecast beside each zip code:
NW Carlsbad, 92008 (+30.4%)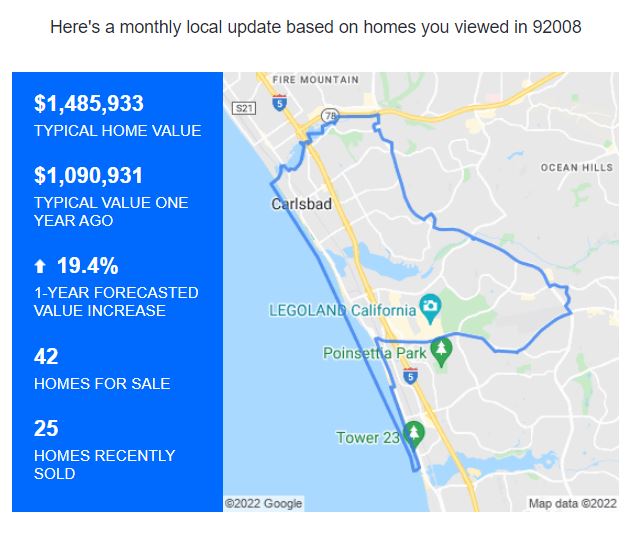 SE Carlsbad, 92009 (+30.5%)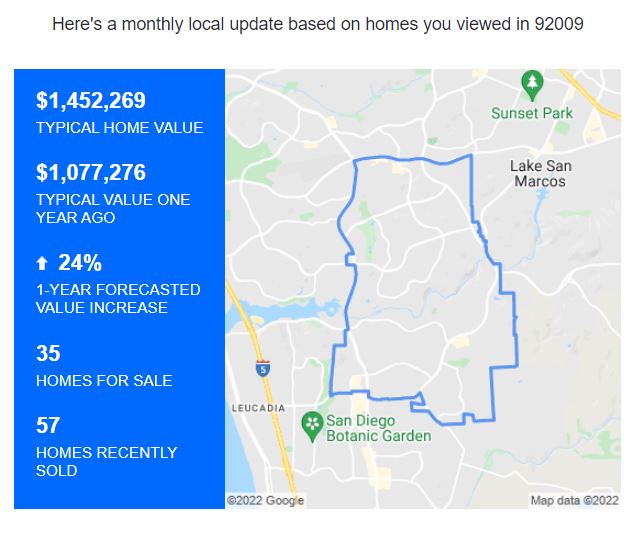 NE Carlsbad, 92010 (+29.5%)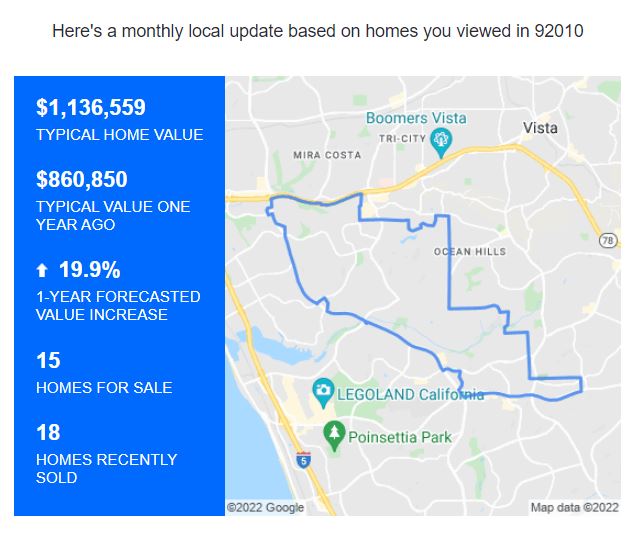 SW Carlsbad 92011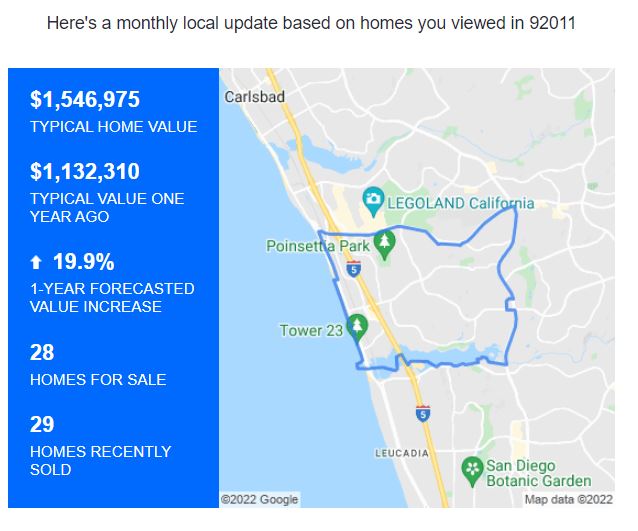 Carmel Valley 92130 (+30.2%)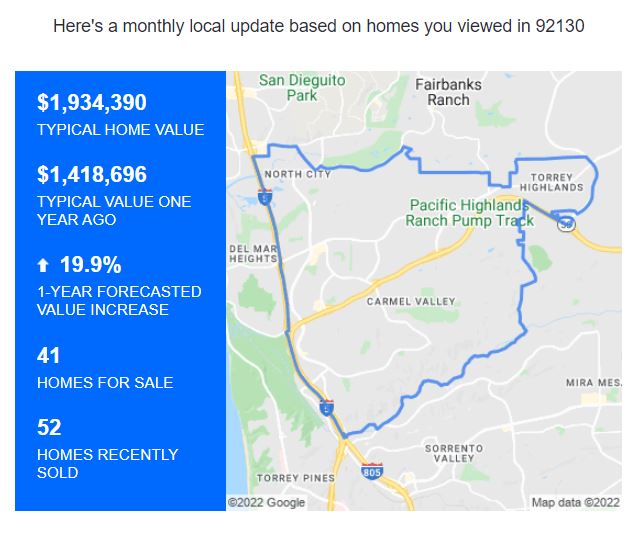 Del Mar, 92014 (+30.7%)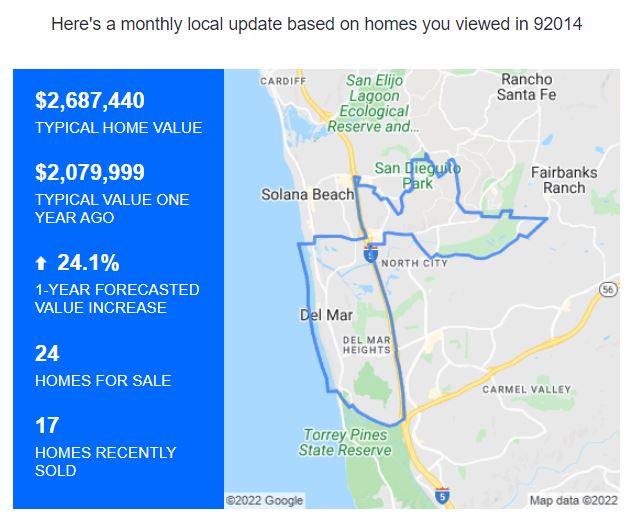 Encinitas, 92024 (+30%)
La Jolla, 92037 (+29.1%)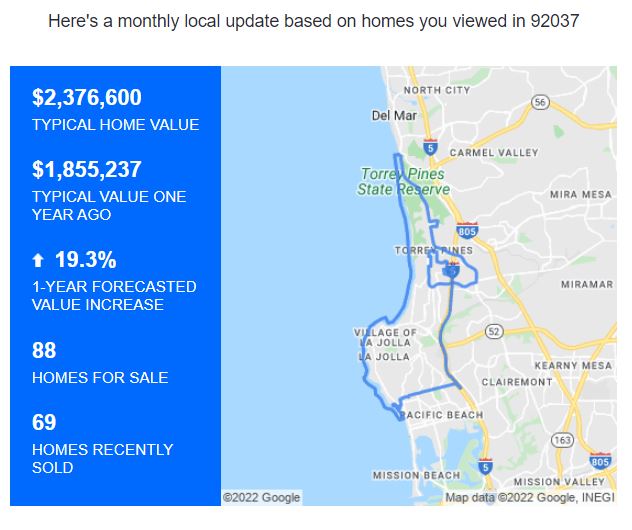 Rancho Santa Fe, 92067 (29.3%)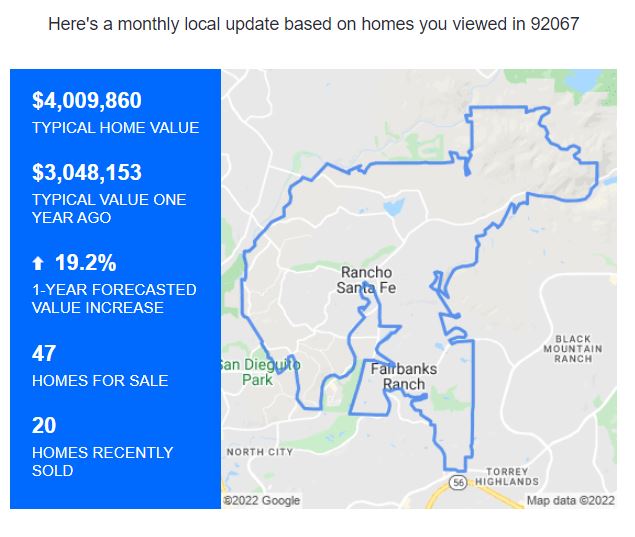 West RB, 92127 (+30.9%)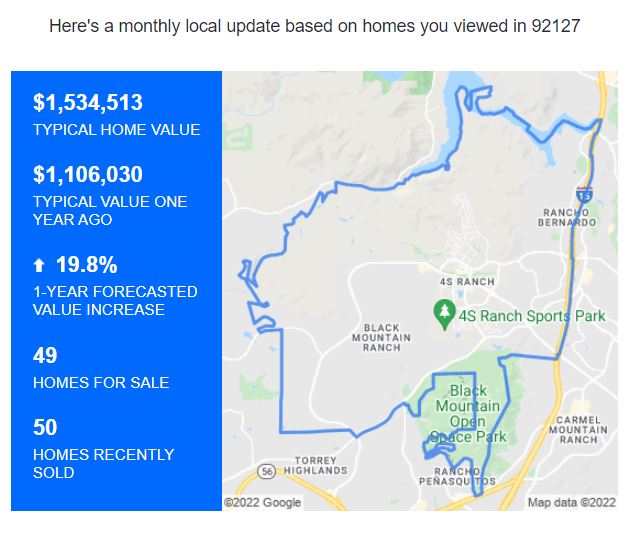 Previous forecasts here: https://www.bubbleinfo.com/2022/03/01/zillow-now-says-30-appreciation/
They do have something that none of the ivory-tower economists have – the real estate viewer data.
They have lowered their local 1-year pricing forecasts by 5% to 11% in every zip code, which must be resulting from their algorithms sizing up the customer viewing data….doesn't it?
Are they lowering the zestimates too?
It is hard to track because once a home goes on the MLS, their zestimate is automatically adjusted to within a couple of bucks of the list price. But are consumers – sellers and buyers – aware of that?  No, and not even the agents know it.  Everyone will wonder if the zestimate is legit, and they want to believe in something.
If we see more active (unsold) listings stacking up, we can attribute some, or all of it to the list pricing being based on the zestimates taken from earlier this year……..and sellers believing that they mean something!  And then if they check their latest zestimate, it will be the same as their current list price, which will embolden them to think that the lucky young couple with 2.2 kids is right around the corner.