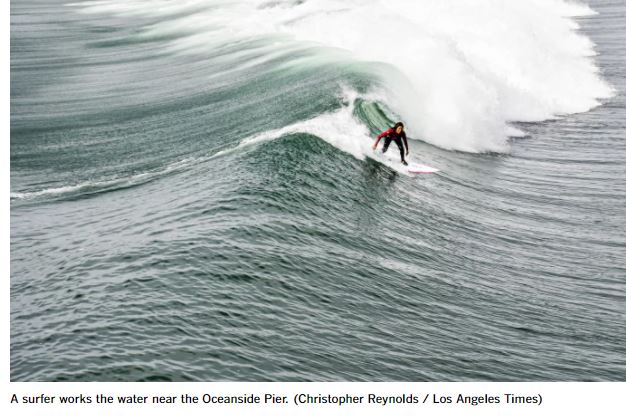 People have asked how I liked the article about Oceanside's resurgence.
I loved it – they featured our own Michele Bolanos in the photo (above)!
The author noted that the purple palace got bulldozed last year (the last remaining strip club in town), and they are building upscale apartments there now. More gentrification is on-going too – an excerpt:
Marine Corps Base Camp Pendleton (population about 38,000) has been the northern next-door neighbor to Oceanside (population about 174,000) since it was established during World War II. Around downtown, you still see several military surplus stores, tattoo parlors and barber shops, where many Marines get their "high-and-tight" haircuts weekly.
With so many active and retired military on hand, the city has a more blue-collar, conservative feel than most other SoCal beach towns. It's also more culturally diverse, according to the most recent U.S. Census numbers.
But, as new businesses multiply, Oceanside is looking a bit more like its civilian neighbors to the south (Carlsbad and Encinitas) and north (San Clemente).
"We liked it the way it was. But it's got to move," said Jonny Gomez, 84, owner of the Esquire barber shop since the early 1960s.
"I believe we're now up to eight coffee shops in downtown," said Gumaro Escarcega, chief operations officer of the civic nonprofit MainStreet Oceanside. With the cost of living rising fast — Zillow estimates that home values are up about 25% in the last year — "we have to be careful because of gentrification," he added.
https://www.latimes.com/lifestyle/story/2022-02-17/south-o-is-an-oceanside-neighborhood-with-new-energy
Beach houses west of the I-5 are selling for more than $1,000,000, so there are no real bargains to be had. But it is in the path of progress – here is my tour from last year: