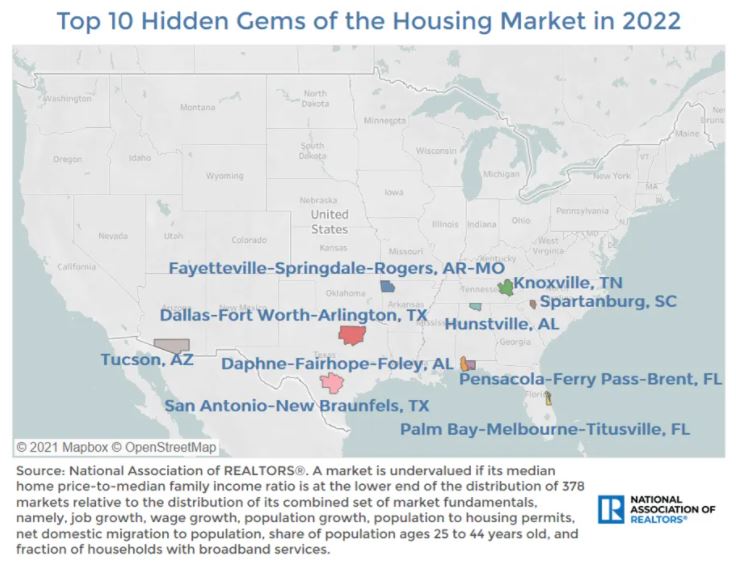 We'll be in Tucson next month, and I'll be doing my own investigation!
In 2021, single-family existing-home prices rose at the fastest pace in five decades at an average year-over-year pace of 18%, driven by strong job growth, historically low mortgage rates, a post-pandemic recovery in household formation, and inadequate housing construction and pandemic-induced supply bottlenecks. At the metro area level, the differences in price appreciation were heavily driven by job growth and by businesses and people moving into the area, especially among workers with the ability to work fully remotely.
Are there markets where home prices are still undervalued relative to the market fundamentals' underlying home prices? In its latest report, 2022 Housing Market Hidden Gems, the National Association of REALTORS® identified the top 10 markets with strong underlying housing market fundamentals but where home prices are still undervalued and relatively affordable. As such, these hidden gem markets are expected to experience stronger price appreciation in 2022.
In alphabetical order, the hidden gem markets are as follows:
Dallas-Fort Worth, Texas
Daphne-Fairhope-Farley, Alabama
Fayetteville-Springdale-Rogers, Arkansas-Missouri
Huntsville, Alabama
Knoxville, Tennessee
Palm Bay-Melbourne-Titusville, Florida
Pensacola-Ferry Pass-Brent, Florida
San Antonio-New Braunfels, Texas
Spartanburg, South Carolina
Tucson, Arizona
Read more here:
https://www.nar.realtor/blogs/economists-outlook/top-10-hidden-gems-of-the-housing-market-in-2022