Mike sent out a comparison of mortgage lenders and their quest to disrupt the real-estate-selling business. Here he shows how Rocket is the dominant mortgage lender in the country, and their press release describes their ambition – they think being the jack-of-all-trades will cause them to dominate the space, and now every real estate company will have to offer all services just to keep up. The winners will be determined by who advertises the most: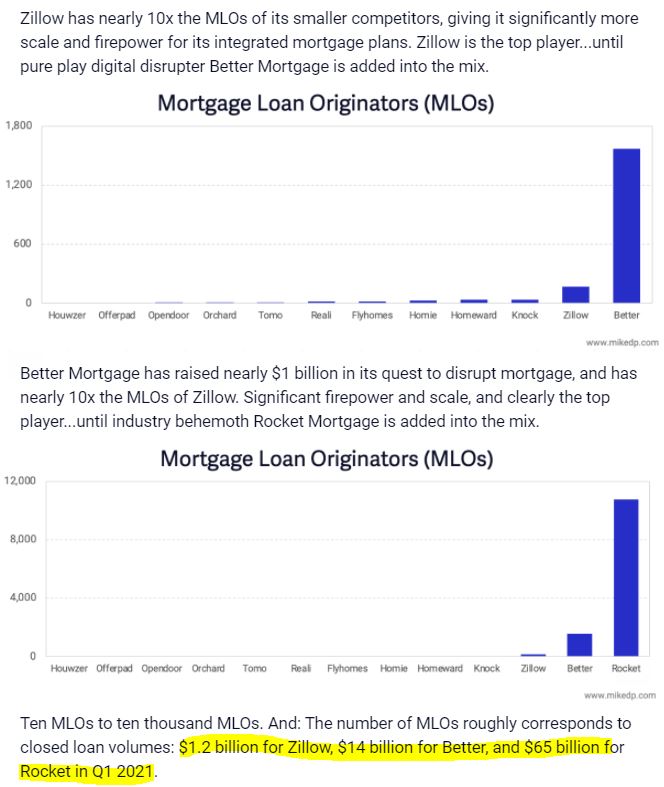 Their press release linked here:
https://www.prnewswire.com/news-releases/rocket-homes-combines-every-aspect-of-home-buying-and-selling-into-one-simple-customizable-platform-301352134.html
An excerpt:
Rocket Homes, a technology-driven real estate service provider and part of Rocket Companies, today announced it is revolutionizing the way home buying and selling is done in America by seamlessly integrating the tools, professionals and innovations needed to win in a red-hot housing market. Rocket Homes will be the first real estate company ever to create a wide array of choices for those in the market, putting clients in the position to create their own truly bespoke experience, rather than the traditional one-size-fits-all approach that has been the standard for more than a century.
The company is bringing together a comprehensive suite of services that includes: credit reporting, home search, the industry-leading ForSaleByOwner.com process, on-staff real estate agents, a nationwide network of trusted real estate professionals, iBuying services to provide a back-up offer to sellers – along with direct connections to Rocket Mortgage, America's largest mortgage lender, and Amrock, a premier closing and settlement services provider.
"There is nothing more exciting than getting the keys to a new home, but far too often the process of getting to that point is confusing and fragmented. At Rocket Homes, we are laser-focused on using technology and innovation to create a fully customized and transparent experience that is stress-free and fully integrated – working seamlessly with sister companies to simplify and speed-up the process, all while saving our clients money," said Doug Seabolt, CEO of Rocket Homes. "Whether a client is looking to sell their house on their own, get assistance from an on-staff Rocket Homes agent or meet face-to-face with our trusted local real estate professionals, we will have unique options and resources to help every client move through the process in a way that is fully customized to them."
Homeowners looking to sell their property will have the ability to select the right experience for their needs and goals thanks to Rocket Homes Seller Solutions.  Through the program, sellers can:
Leverage the industry-leading ForSaleByOwner.com platform that provides sellers all the tools they need to go through the process on their own. This option has become increasingly popular among homeowners in today's competitive housing market.
Work with highly skilled, on-staff Rocket Homes Real Estate Agents that advise clients on the best list price, facilitate professional photos, list the house on the local multiple listing service, negotiate offers and handle all paperwork. Just like Rocket Mortgage effectively serves clients in all 50 states from centralized locations, Rocket Homes agents will assist with the most complex moments of the real estate transaction from downtown 

Detroit

. With this option – which will be open to the public starting in the fourth quarter of 2021 – homeowners pay a significantly lower commission of only 1.5% for the selling agent, as opposed to the traditional fee of 3% — which represents a savings of 

$4,500

 on a 

$300,000

 home sale.
If a homeowner wants to work with an expert in their local area, they can tap into the Rocket Homes Verified Partner Agent Network of trusted and vetted professionals. This is a nationwide group of the best real estate agents who consistently receive top ratings from the clients they serve. The Partner Agent Network provides the option of a high-touch, in-person experience that some sellers desire. It consists of thousands of professionals working in every state, representing more than 3,000 counties across the country.
True to the company's promise of providing certainty in complex moments, a soon-to-be-released iBuyer program, facilitated through third-party partner companies, will ensure every owner is given the opportunity to receive a guaranteed offer on their house. Consumers who need to sell their house before buying another often lose out on their new dream home due to the need to make a contingency offer – meaning their deal hinges on closing the sale on their existing property.  With the forthcoming program from Rocket Homes, these consumers will now have a guaranteed offer on their current house and can eliminate the need for contingency altogether.