The YoY change in the San Diego Case-Shiller Index in June was 31% higher than the national 10-city index. If we apply the same 31% to next year's national forecast of roughly +5%, the San Diego home-appreciation rate in 2022 should be around 6.55% – though, if you ask me, it will more likely be 2x the national rate.
Thanks KCM:
Most forecasts call for home price appreciation to moderate in 2022.
The Home Price Expectation Survey, a survey of over 100 economists, investment strategists, and housing market analysts, calls for a 5.12% appreciation level next year. Here are the 2022 home appreciation forecasts from the four other major entities:
The National Association of Realtors (NAR): 4.4%
The Mortgage Bankers Association (MBA): 8.4%
Fannie Mae: 5.1%
Freddie Mac: 5.3%
Price appreciation is expected to slow in 2022 when compared to the record highs of 2021. However, it is still expected to be greater than the annual average of 4.1% over the last 25 years.
~~~~~~~~~~~~~~~~~~~~~~~~~~~~~~~~~~~~~~~~~~~~~~~~~
From Freddie Mac: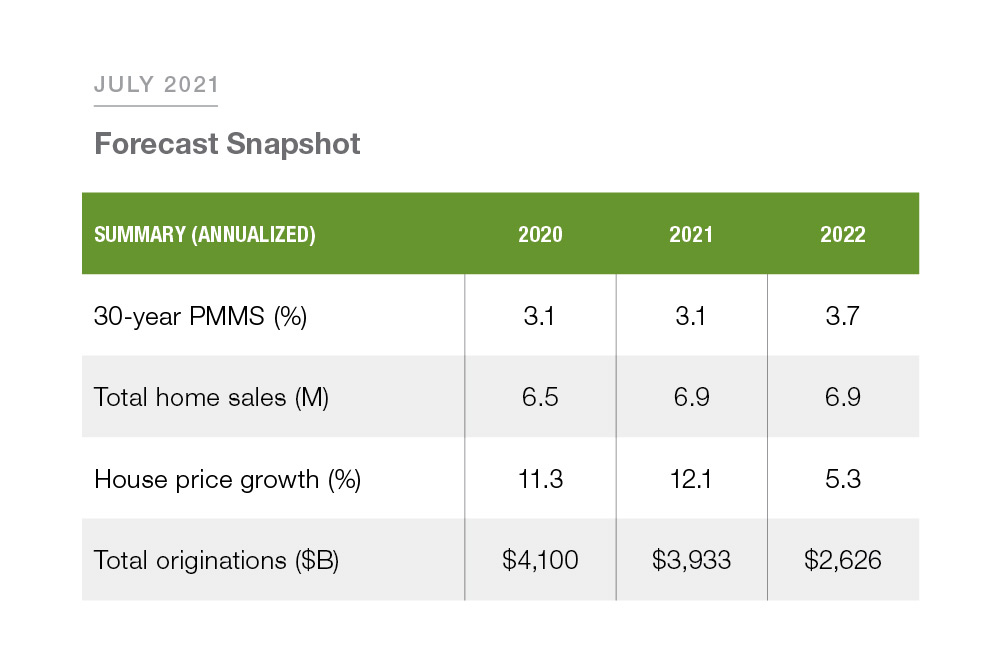 High house price growth has been supported by increased demand due to low mortgage rates, disposable after-tax income that has risen during the current recession and a major shortage of housing supply relative to our population. The increase in house price growth will be less transitory than the increase in consumer prices, as the U.S. housing market will continue to struggle with a shortage of available housing for many months to come. But, we do forecast house price growth to moderate in 2022, with full year house price growth of 12.1% in 2021 followed by 5.3% in 2022.
The rapid run up in house prices may be starting to exhaust potential homebuyers.
We've seen indications of softening demand in recent home purchase mortgage applications data. And, while sales metrics remain above pre-pandemic levels, the pace of sales has cooled since the first quarter of this year with home sales slowing for the past four consecutive months. That's reflected in our home sales forecast, which has total home sales declining to 6.9 million in 2021 and 2022 after reaching a seasonally adjusted annual rate of 7.6 million and 7.2 million in the fourth quarter of 2020 and first quarter of 2021, respectively.