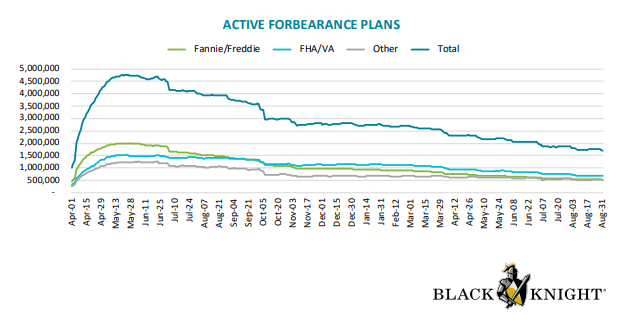 Another update on the forbearance exits. Nobody is going to get foreclosed in North San Diego County's coastal region, mostly because of the ample equity position every homeowner has in place – but those positions could cause them to sell. Won't the homeowners be spoiled from the 12+ months of free rent, and, once they recognize the alternatives (renting for ridiculous rates here or moving out of state), be more likely to work out a payment plan with their lender? Yes! But this would be a good time for a surge, if it happens!
Black Knight estimates that nearly 630,000 forbearance plans, more than one-third of those currently active, are slated for review this month. Of those, 400,000 will have reached the end of their 18 months of forbearance eligibility unless the maximum term is extended again.
The end of August saw a significant decline in forbearance numbers as servicers worked through the month's crop of three-month reviews. Plans declined by 53,000 over the week ended August 31 with more than 23,000 from FHA or VA portfolios. The number of GSE (Fannie Mae and Freddie Mac) loans dropped by 20,000 and loans serviced for bank portfolios or private label securities (PLS) saw a 10,000 unit decline. The number of plans is down by 9 percent since the end of July.
Black Knight estimates that approximately 1.71 million borrowers remain in forbearance, 3.2 percent of the 53 million outstanding mortgages. Those loans have an unpaid balance of $331 billion. The total includes 514,000 GSE loans, 676,000 FHA and VA loans, and 520,000 portfolio/PLS loans. The loans remaining in forbearance represent 1.8 percent of the GSEs' totals and 5.6 percent and 4.0 percent of FHA/VA and portfolio/PLS loans, respectively.
http://www.mortgagenewsdaily.com/09032021_black_knight_forbearances.asp