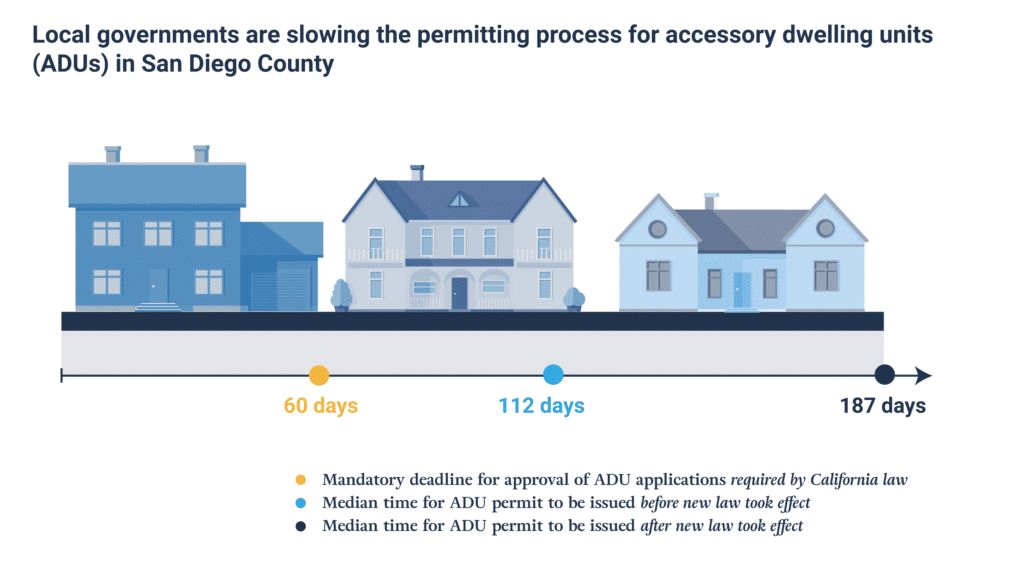 Last month, we heard from an architect on how bad the ADU permit process had been in San Diego.
Now here's a report from our good friends at the PLF:
https://pacificlegal.org/still-no-place-to-live/
An excerpt:
Pacific Legal Foundation obtained public records from San Diego and Riverside Counties (two of the most populous counties in the state) to determine whether local governments are abiding by the new 60-day permit-approval period, which took effect in January 2020. 
Unfortunately for California residents, local governments are failing miserably to abide by the new state law.  
San Diego County took a median of 187 days to issue an ADU or Junior ADU building permit after January 2020. 

Permits issued 

prior

 to the new law took a median of 112 days to be issued. Only 52% of permits issued prior to the new law fell within the previously required 120-day mark.
Currently, only 5% of permits issued by the county met the state's 60-day deadline. Many times, the permitting process is held up by excessive fees or approvals needed from other departments within the county. As of July 21, 2021, there are 587 pending applications, of which 90 were submitted prior to 2020. If these permits were issued today, the median wait time would be 255 days after the application was submitted.
The government, and society in general, needs to recognize how dire the housing crisis is for the citizens.  We're going to have continued upward pressure on home prices and rents, and building ADUs is one of the best ways to alleviate the problem. It doesn't matter if the resistance by local governments is conscious or sub-conscious, the ADU-approval process needs to improve radically to implement the will of the people, and slow down prices.