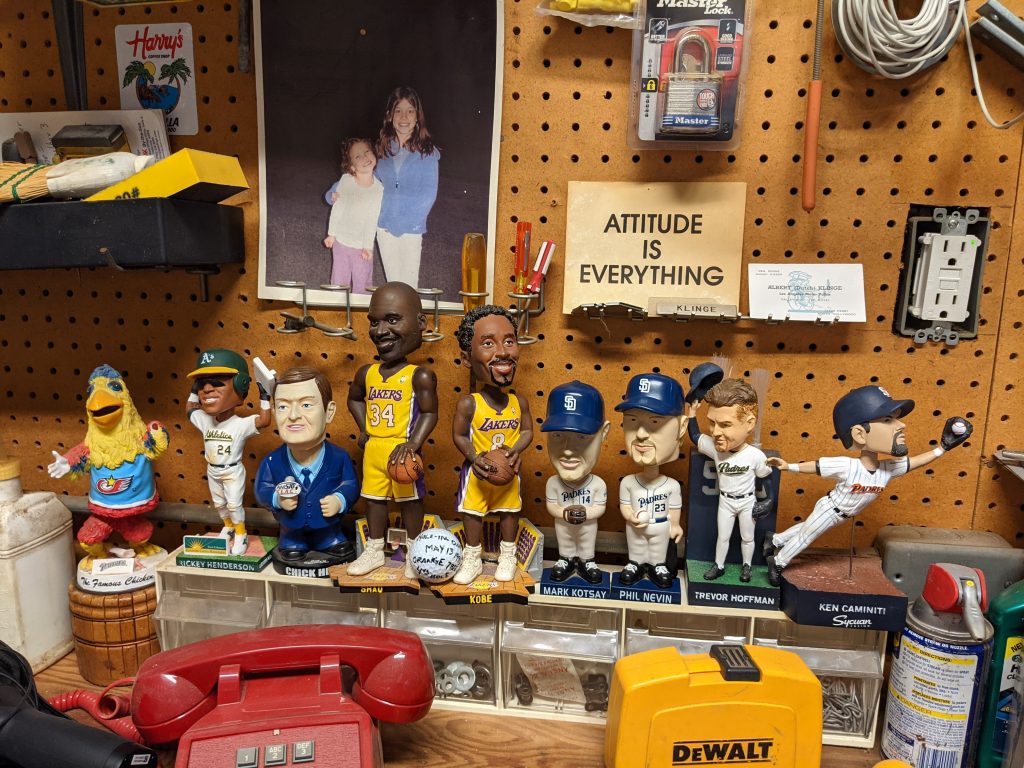 From the bottom left.
If you ever get famous enough that you might need a direct line – like a batphone – well, then you need to be prepared. A solid red push button will do just fine.
The San Diego Chicken – a legend, and sorry your left hand got clipped.
Rickey!  I was at the game when he got his 3,000th hit as a Padre!
Chick, the legend. He was like a father to all of us, talking about our favorite team.
Shaq & Kobe, the duo that won three championships and could have had three more.  Between them is the golf ball I used for my only hole-in-one on a legit course in 1994.
Above is my precious two daughters in a photo I took on Esfera Drive when we lived in La Costa.  Their beauty overwhelms the wicked full moon in the background.
It's good to have a few screwdrivers.
Attitude Is Everything
The Klinge name badge, and my grandfather's business card with home address and phone number!
Mark Kotsay and Phil Nevin both went to Cal State Fullerton (as did Donna and I), and both were the NCAA College Player of the Year.  And they both had a great experience with the Padres!
Trevor Hoffman, the Hall of Famer.  His kids went to Cathedral when mine did and he participated like a regular guy.  He was an incredible baseball player too. Back in the 1990s he threw 95+ gas and blew batters way. But then he developed the wicked change-up that allows him to get 601 saves.
Ken Caminiti is a lesson to us all.
You always need WD-40, DeWalt drill bits, and an extra Master lock. Count on it!