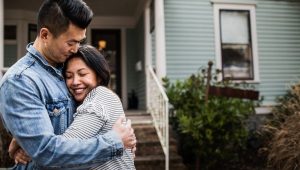 The only buyers with regrets will be those who purchase in the last 2-3 months of increasing prices in their area:
he news seems to be filled these days with tearful tales of folks who bought homes for well over the asking price—some sight unseen—during the coronavirus pandemic. They lament that they bought these properties at the height of the real estate market, often spending more than they planned, and didn't have the time to conduct more thorough inspections or determine whether the location was right for them.
Now a reality check: Most folks who closed on new properties aren't suffering from buyer's remorse, according to a recent Realtor.com® survey.  Not even close. Almost three-quarters of folks who bought homes in the time of COVID-19 are happy with their purchases, the findings showed. About 1,000 people who purchased homes within the past 12 months participated in the survey, which was conducted between March 26 and April 7.
In fact, about 71% of those surveyed say buying was a good decision, while 75% say their new home is a good fit for their families. In fact, many wish they had taken the plunge and moved sooner, before the number of homes for sale shriveled up just as waves of buyers flooded the market.
About three-quarters of these homeowners had planned to buy before the pandemic. Just a quarter bought in response to COVID-19. And almost half, 48%, say they didn't feel rushed or pressured into a sale.
Meanwhile, only 19% wish they had waited to buy and less than a third would have spent more time looking if they could do it all over again.
https://www.realtor.com/news/trends/most-pandemic-buyers-happy-with-their-homes/