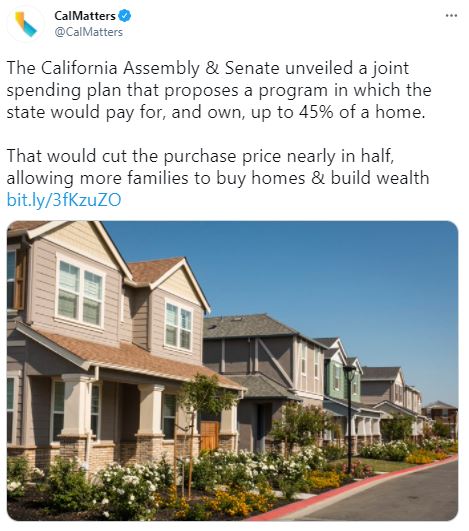 When the Fed cut the Fed Funds rate to zero at the onset of Covid-19, it caused mortgage rates to drift under 3%, giving the illusion of helping home buyers.  But it has been the sellers who have reaped the big rewards. 
The San Diego Case-Shiller Index has gone up 19% in 13 months, and the NSDCC median sales price has INCREASED 38% between March, 2020 and May, 2021.
Creating a state program to increase demand would do the same thing.
Hat tip to both Mitch and Anna for sending in this article.
An excerpt:
Flush with a historic budget windfall of more than $100 billion, state lawmakers have a chance to put their money where their mouths are on housing. Assembly and Senate budget leaders alike have identified homeownership as key, but must still agree on the details.
The Assembly has made it a priority to increase investment in the finance agency's down payment assistance program. By how much, or the source for that funding, is yet to be hammered out.
In his revised budget that he submitted to the Legislature on Friday, Gov. Gavin Newsom proposed a $100 million state and federal investment in the same program. Newsom also proposed $100 million to finance "granny flats" and other accessory dwelling units for low- and middle-income families.
Senate Democrats have a more radical idea. Under their pandemic recovery budget blueprint released last month, the state would partner with first-time homebuyers to buy through what they're dubbing "California Dream for All." The state would pay, and own, up to 45% of the home, cutting the purchase price for people by nearly half. For example, a family could buy a $400,000 home for $220,000 under the program.
The money would come from a yet-unspecified revolving fund set up by the state, with shares sold to investors. As home values increase, so would the value of the shares.
The Democrats have proposed commissioning the state treasurer to hash out the program in greater detail and present it back to the Legislature for approval in 2022.
The expansion in homeowner aid would disproportionately favor low-income communities of color who most need the help, allowing the state to "circle around" the constitutional provisions that bar the state from considering race in programs, said Muhammad Alameldin, economic equity fellow at the Greenlining Institute in Oakland.
Link to Full Article
Twitter comments here: