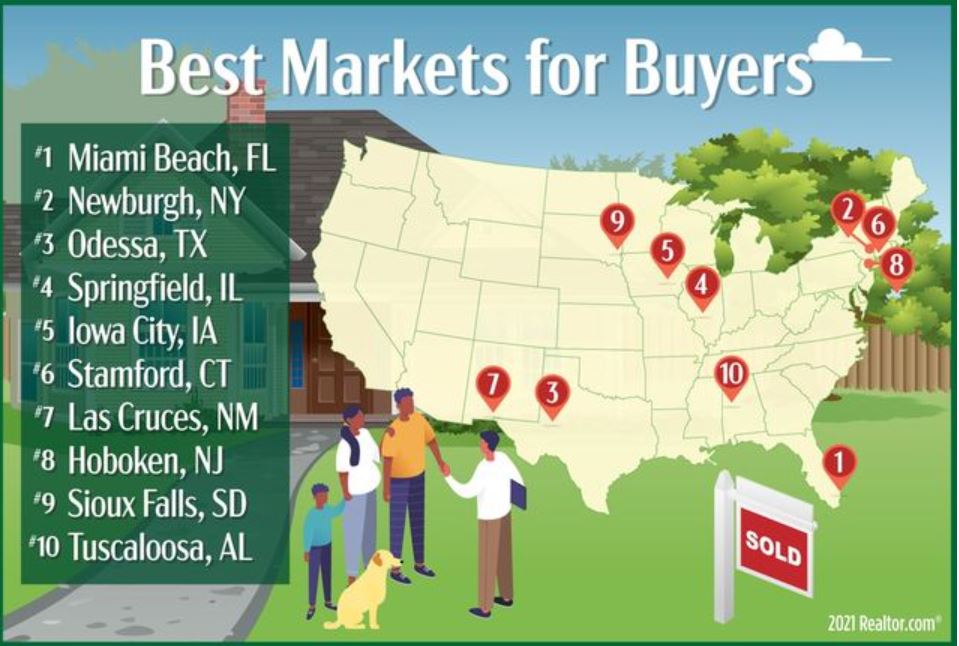 Are you thinking of going somewhere that doesn't have bidding wars? You need to go a ways!
Just in case you haven't heard, snagging a well-priced home in today's real estate market can feel a bit like winning Powerball. It's all about beating sky-high odds. Scant inventory, worsened by a pandemic-crush to buy new homes, has led to prices reaching new records and competition bidding them up even higher. All-cash bids and multiple offers way above asking are pricing many would-be homeowners right out of the market, or leaving them feeling hopeless.
"Demand has actually been growing stronger than supply going all the way back to 2014," says Doug Duncan, chief economist at Fannie Mae. "It's just that in 2020, incredibly low interest rates augmented that demand."
In other words, we've found ourselves in an extreme seller's market.
But not everywhere. The Realtor.com® data team found the places where buyers could actually have the advantage. Buyers in these spots—which tend to be smaller cities and college towns—have more properties available to choose from, and prices haven't risen too much (if at all) compared with where they were at the start of the COVID-19 pandemic. This doesn't mean home prices haven't risen and the competition isn't fierce in these cities—they're just better than the rest of the country.
Looking ahead, buyers may get some more relief in the coming months as sellers become more comfortable listing their homes. Rising mortgage rates and the increase in inventory could slow down price gains. And while prices likely won't drop, or at least by much, it could lead to a bit less competition.
But where can buyers get at least a little relief right now? To come up with our list of places, we looked at cities where home prices had not risen more than 10% in the past year (compared with 16% nationally) and calculated the number of homes for sale per 1,000 households—the more the better. All of the cities had at least 50,000 residents, and we limited the list to one city per state to achieve geographic diversity.
https://www.realtor.com/news/trends/best-cities-for-home-buyers-right-now/