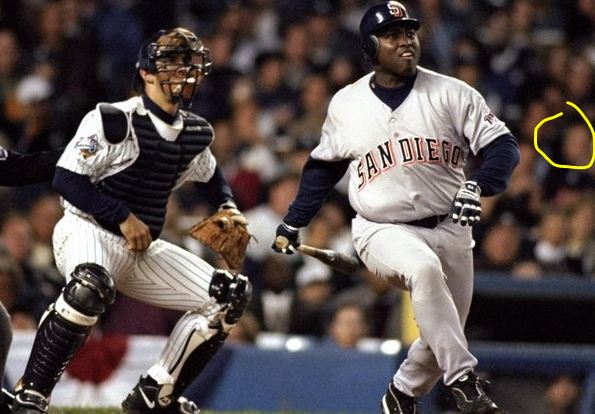 In the 1980s, one of the first places I lived in San Diego was at the Rancho Mission condos just across the freeway from the Murph. We used to walk to Padres games and and pay a few bucks to sit in the outfield and watch a few innings. For a guy who loved playing baseball all my life, it was a real treat for the games to be so accessible.
In 1988, we went to the Chargers vs. Raiders game the night after our wedding (we were married at the Mission down the street), and later took my young kids to a Chargers game – but vowed I'd never do that again after the cussing/fights.
In 1998, we became Padres season-ticket holders, and we went to the World Series our first year! The playoffs against the Astros and Braves were epic, but we got swept by the Yankees – I did go to Game Three though! I thought man – I hope this happens every year!
I was there when Rickey Henderson got his 3,000th hit in the last game of the 2001 season, which was also Tony Gwynn's last game. It was such a treasure to see so many of Tony's games – nobody played like T!
We saw a few concerts there too; the Eagles in 1994 and we took the kids to see two of their favorites – Beyonce and Coldplay too.
Once the Padres moved downtown, I really appreciated the greatness of the Murph. The field-level seats had their own concessions right under the stands so you could go to the bathroom and grab a hot dog & beer without missing more than an half-inning. Try that at Petco Park! Plus the parking was fantastic when you compare it to the nightmare downtown.
I don't think that I hate Petco…..I just miss the Murph: