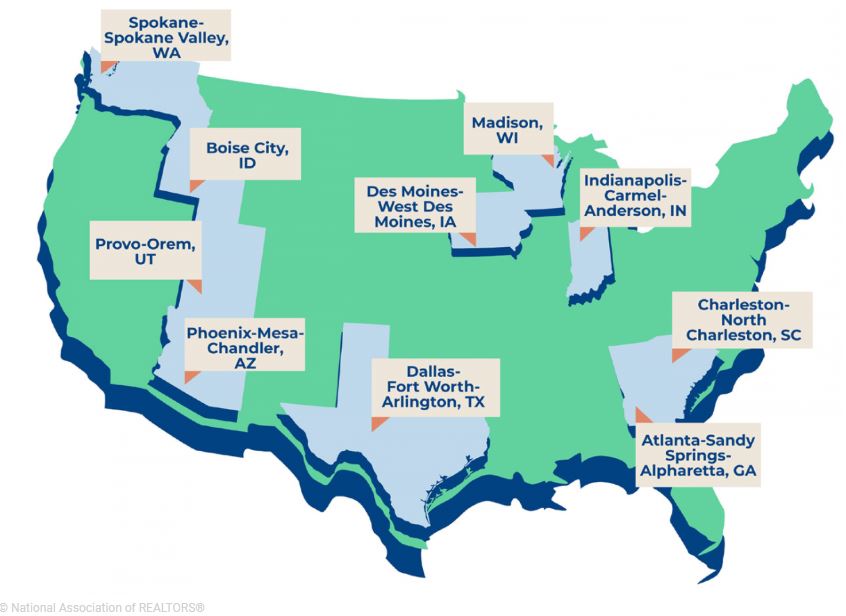 We've had sellers move to five of these towns this year!
Housing markets are showing resilience against the pandemic, but some are thriving more than others and are expected to continue to perform strongly in the years ahead.
Coinciding with the National Association of REALTORS®' virtual Real Estate Forecast Summit on Thursday, NAR released a list of the top metros expected to have the strongest housing markets over the next three to five years. Researchers factored in domestic migration, housing affordability for new residents, consistent job growth relative to the national average, population age structure, attractiveness for retirees, and home price appreciation.
The following 10 markets were identified by NAR (listed in alphabetical order):
Atlanta-Sandy Springs-Alpharetta, Ga.
Boise City, Idaho
Charleston-North Charleston, S.C.
Dallas-Fort Worth-Arlington, Texas
Des Moines-West Des Moines, Iowa
Indianapolis-Carmel-Anderson, Ind.
Madison, Wis.
Phoenix-Mesa-Chandler, Ariz.
Provo-Orem, Utah
Spokane-Spokane Valley, Wash.
These housing markets likely will carry momentum from 2020 into "2021 and beyond because of strong in-migration of new residents, faster local job market recoveries, and environments conducive to work-from-home arrangements and other factors," says NAR Chief Economist Lawrence Yun. For example, movers from pricey coastal regions may be drawn to cheaper destinations as companies increase work-from-home policies and make commuting less of an issue.
The trend is already becoming apparent in markets like Phoenix and Dallas, which have attracted the largest number of movers from the West Coast, the report shows.
"Expect these 10 markets to perform strongly, with potential buyers finding conditions particularly favorable to purchase a home," says NAR President Charlie Oppler. "Overall, residential real estate will continue to be an important driver of our nation's economic recovery, and the activity in these markets will help lead the way."