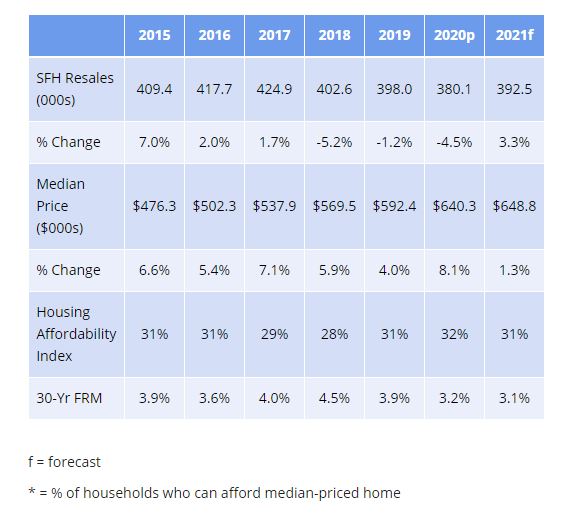 The California Association of Realtors kicks off the 2021 forecast season! To show how far removed they are from reality, check their foreclosure forecast. Homeowners are flush with equity, and if they get in trouble, they will sell before they getting foreclosed because realtors will be soliciting them the minute their notice of default is recorded. Plus the banking laws were changed/ignored last time and lenders have figured it out – don't foreclose on anyone unless there is ample equity so the bank doesn't lose money.
Yet the association thinks that foreclosures will make up 5% to 30% of the market, and be discounted up to 40%??
My prediction? Foreclosures will make up less than 1% of the market next year, and no discounts.
Excerpts:
The number of homes on the market — down 50% in 2020 — are expected to stay low in the coming year, creating more upward pressure on prices.  Southern California likely will see a similar pattern to the statewide trend, Appleton-Young said.
This year's median house price — or price at the midpoint of all sales — is projected to rise 8.1% from 2019, due in part to strong sales of higher-priced homes, pulling up the overall averages.
While home values rose in all price segments this year, the biggest price growth was in the top 20% of the market, Appleton-Young said. That's because professionals and other high-income earners weren't hit as hard by the pandemic as were renters and people working in the restaurant, hotel and hospitality sectors.
Foreclosures also are projected to rise next year, although not nearly to the degree they did during the Great Recession.
For example, CAR economists projected bank-owned homes will make up between 5% of next year's listings in a best-case scenario to 30% in a worst-case scenario. By comparison, 60% of homes selling at the start of 2009 were bank-owned, with price discounts in the 60% range. A worst-case scenario for next year foresees discounts of 40% for foreclosed homes.
Ultimately, the housing market is ending 2020 in much better shape than anyone expected, Appleton-Young said. For example, house sales shifted from a 41% drop in May to a 15% gain in August, CAR figures show.
"The recovery coming back has been absolutely stunning," Appleton-Young said. "There's just a lot of uncertainty, so we tend to be conservative looking at next year."
Link to Full Article
Link to CAR Forecast