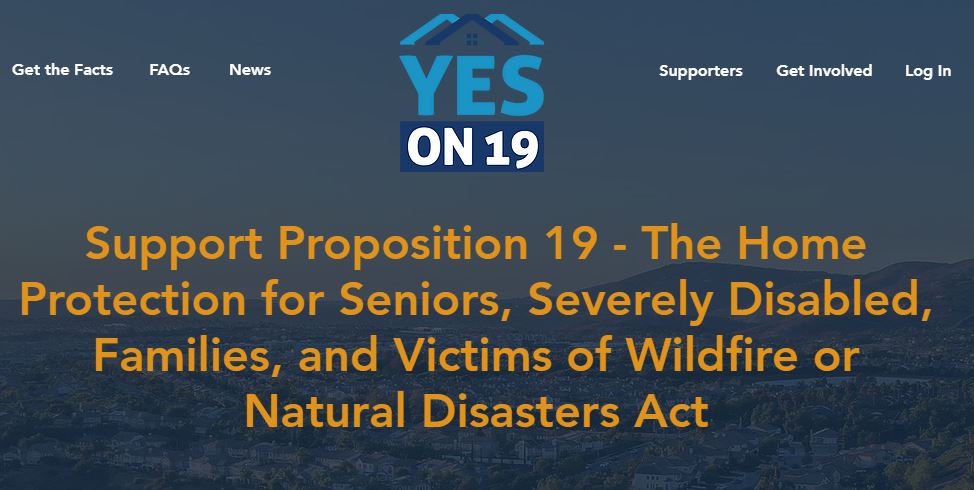 Proposition 19 is on the ballot, and the California Association of Realtors wants you to believe that if it passes, there will be a surge of new inventory from seniors finally being able to sell their homes and take their ultra-low property-tax basis with them to a new home in a county not previously available.
They have deftly orchestrated a campaign that touches on all the hot buttons too. Just look at the title – who doesn't want to protect the homes of seniors, severely-disabled, families, and victims of wildfire or natural disasters?
But they ignore that seniors have been able to sell and take their ultra-low property-tax basis with them for years – but only if they move to one of the 10 counties in California (out of 58) who have previously approved the benefit.
The ten counties are the major population centers; Alameda, Los Angeles, Orange, Riverside, San Bernardino, San Diego, San Mateo, Santa Clara, Tuolumne, and Ventura. So they want us to believe that seniors have always wanted to move to the sticks – and if passed, the taking of their property-tax basis is the game-changer that gets them to finally move?
Other thoughts:
How much do seniors need to spend on a replacement home in the sticks? Half a million should do it, so without Prop 19, the regular tax basis would be around $5,000 per year.  If a senior pays less than $2,000 annually on their old home….the actual savings isn't a large amount ($1,000 to $3,000 annually) but yes, every little bit helps.
Did the grandkids already move to the same town? Probably a more-important ingredient than saving $1,000 to $3,000 per year.
It only benefits seniors leaving the big cities for small towns. Are they going to live without their modern conveniences like doctors (a big issue), shopping, entertainment, and a way of life to which they've become accustomed to for decades, just to save $1,000 to $3,000 per year?
Prop 19 protects the ability of kids and grandkids to inherit the ultra-low tax basis from the parents and grandparents.  How does that create more homes on the market?
But the Association is throwing their full weight behind Prop 19, have gotten the firefighters on board in order to play the wildfire card, and they are advertising on TV: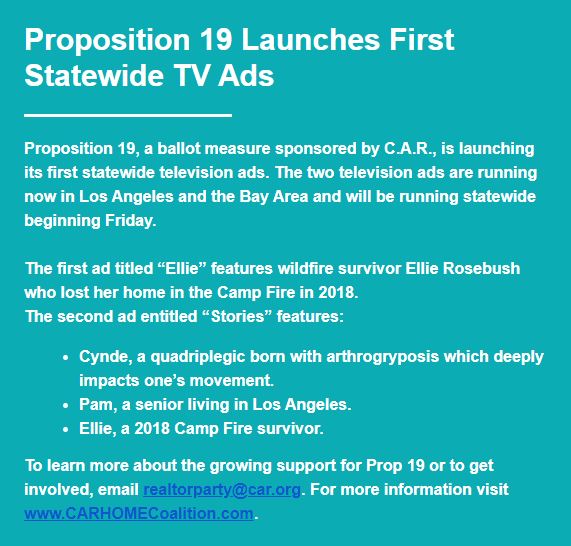 To me, the thought of Prop 19 creating "tens of thousands of housing opportunities" is preposterous.  But seniors are overdue, and maybe it will be the final reason that gets them to move.  For that reason, let's add the passing of Prop 19 to our list of reasons why the 2021 selling season will be like no other!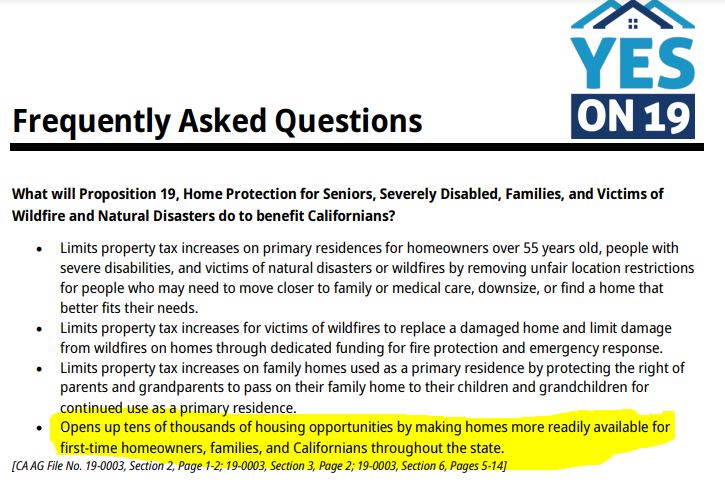 Check out their impressive website: