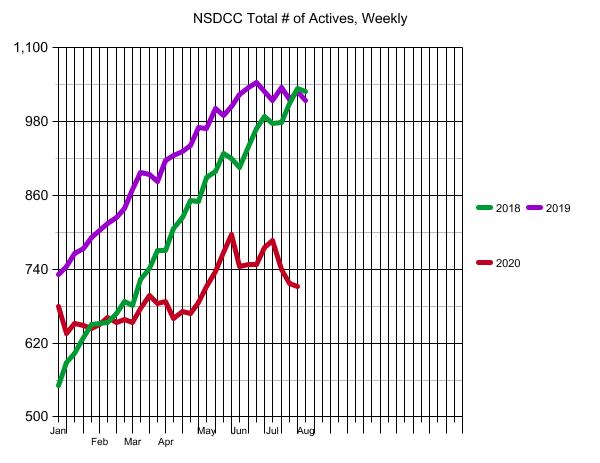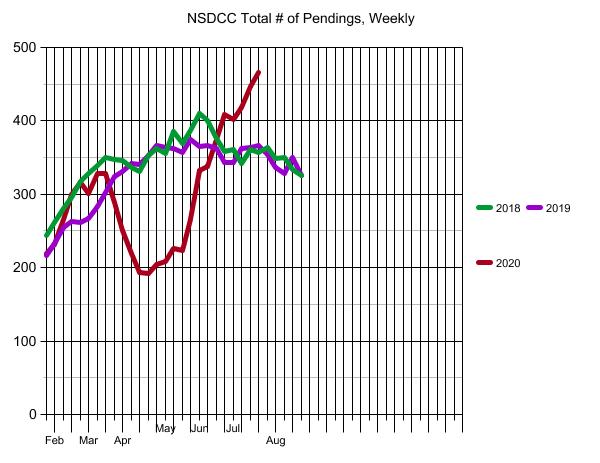 Another incredible week as buyers scramble to grab something and get a mortgage rate in the 2s!
We had 106 new listings, and 98 new pendings in the past seven days, leaving us with roughly 30% fewer homes for sale than at the same time last year.
As long as inventory counts are heading downward, there won't be any relief for buyers – especially those under $1,000,000, where we have 34 active NSDCC listings, and 73 pendings!
NSDCC Under $1,000,000 Market
| | | | | |
| --- | --- | --- | --- | --- |
| Date | NSDCC Active Listings | Avg. LP/sf | Avg. DOM | # of Pendings |
| Jan 7 | 72 | $469/sf | 55 | 49 |
| Jan 14 | 78 | $487/sf | 49 | 48 |
| Jan 21 | 82 | $488/sf | 49 | 49 |
| Jan 28 | 68 | $480/sf | 53 | 64 |
| Feb 4 | 72 | $483/sf | 53 | 69 |
| Feb 11 | 75 | $481/sf | 45 | 74 |
| Feb 18 | 67 | $482/sf | 46 | 76 |
| Feb 25 | 67 | $494/sf | 47 | 67 |
| Mar 4 | 82 | $478/sf | 38 | 64 |
| Mar 11 | 90 | $471/sf | 36 | 65 |
| Mar 18 | 95 | $475/sf | 37 | 69 |
| Mar 25 | 98 | $463/sf | 36 | 72 |
| Apr 1 | 94 | $462/sf | 38 | 71 |
| Apr 8 | 91 | $455/sf | 42 | 75 |
| Apr 15 | 93 | $463/sf | 42 | 75 |
| Apr 22 | 94 | $481/sf | 44 | 78 |
| Apr 29 | 99 | $469/sf | 43 | 84 |
| May 6 | 106 | $466/sf | 38 | 81 |
| May 13 | 102 | $470/sf | 38 | 78 |
| May 20 | 112 | $453/sf | 31 | 79 |
| May 27 | 110 | $464/sf | 34 | 80 |
| Jun 3 | 113 | $469/sf | 33 | 84 |
| Jun 10 | 109 | $463/sf | 36 | 88 |
| Jun 17 | 109 | $465/sf | 35 | 89 |
| Jun 24 | 105 | $474/sf | 37 | 84 |
| Jul 1 | 96 | $474/sf | 38 | 79 |
| Jul 8 | 89 | $472/sf | 46 | 85 |
| Jul 15 | 100 | $490/sf | 43 | 82 |
| Jul 22 | 94 | $494/sf | 44 | 84 |
| Jul 29 | 97 | $493/sf | 44 | 78 |
| Aug 5 | 99 | $490/sf | 43 | 69 |
| Aug 12 | 101 | $482/sf | 39 | 65 |
| Aug 19 | 103 | $487/sf | 39 | 64 |
| Aug 26 | 106 | $476/sf | 44 | 59 |
| Sep 2 | 96 | $471/sf | 48 | 59 |
| Sep 9 | 88 | $477/sf | 48 | 59 |
| Sep 16 | 94 | $474/sf | 41 | 56 |
| Sep 23 | 86 | $467/sf | 46 | 56 |
| Sep 30 | 84 | $467/sf | 50 | 58 |
| Oct 7 | 80 | $487/sf | 44 | 56 |
| Oct 14 | 82 | $478/sf | 44 | 54 |
| Oct 21 | 70 | $470/sf | 47 | 57 |
| Oct 28 | 66 | $458/sf | 44 | 52 |
| Nov 4 | 60 | $460/sf | 40 | 50 |
| Nov 11 | 71 | $462/sf | 44 | 56 |
| Nov 18 | 72 | $472/sf | 36 | 59 |
| Nov 25 | 66 | $473/sf | 39 | 61 |
| Dec 2 | 57 | $481/sf | 43 | 58 |
| Dec 9 | 58 | $458/sf | 38 | 48 |
| Dec 16 | 51 | $458/sf | 43 | 51 |
| Dec 23 | 46 | $463/sf | 46 | 49 |
| Dec 30 | 45 | $460/sf | 48 | 43 |
| Jan 6 | 40 | $453/sf | 51 | 40 |
| Jan 13 | 41 | $483/sf | 48 | 42 |
| Jan 20 | 37 | $467/sf | 51 | 51 |
| Jan 27 | 36 | $462/sf | 46 | 51 |
| Feb 3 | 30 | $464/sf | 51 | 52 |
| Feb 10 | 29 | $459/sf | 39 | 59 |
| Feb 17 | 31 | $451/sf | 37 | 60 |
| Feb 24 | 35 | $470/sf | 32 | 57 |
| Mar 2 | 23 | $454/sf | 42 | 54 |
| Mar 9 | 23 | $473/sf | 32 | 62 |
| Mar 16 | 30 | $476/sf | 31 | 59 |
| Mar 23 | 32 | $486/sf | 33 | 55 |
| Mar 30 | 40 | $475/sf | 32 | 44 |
| Apr 6 | 40 | $476/sf | 32 | 34 |
| Apr 13 | 45 | $486/sf | 31 | 32 |
| Apr 20 | 51 | $500/sf | 30 | 34 |
| Apr 27 | 49 | $485/sf | 31 | 43 |
| May 4 | 59 | $477/sf | 33 | 38 |
| May 11 | 64 | $485/sf | 34 | 43 |
| May 18 | 58 | $491/sf | 37 | 46 |
| May 25 | 56 | $480/sf | 35 | 58 |
| Jun 1 | 45 | $503/sf | 36 | 72 |
| Jun 8 | 44 | $478/sf | 37 | 75 |
| Jun 15 | 43 | $485/sf | 37 | 74 |
| Jun 22 | 42 | $474/sf | 31 | 79 |
| Jun 29 | 48 | $476/sf | 32 | 71 |
| Jul 6 | 38 | $459/sf | 38 | 69 |
| Jul 13 | 40 | $476/sf | 31 | 74 |
| Jul 20 | 34 | $475/sf | 33 | 73 |
The $1,000,000 – $1,500,000 Market:
| | | | | |
| --- | --- | --- | --- | --- |
| Date | NSDCC Active Listings | Avg. LP/sf | Avg. DOM | # of Pendings |
| Jan 7 | 154 | $497/sf | 58 | 69 |
| Jan 14 | 158 | $489/sf | 54 | 65 |
| Jan 21 | 161 | $503/sf | 55 | 56 |
| Jan 28 | 169 | $489/sf | 52 | 60 |
| Feb 4 | 167 | $502/sf | 50 | 69 |
| Feb 11 | 157 | $504/sf | 51 | 84 |
| Feb 18 | 168 | $494/sf | 47 | 83 |
| Feb 25 | 175 | $494/sf | 49 | 84 |
| Mar 4 | 174 | $507/sf | 44 | 86 |
| Mar 11 | 175 | $501/sf | 44 | 91 |
| Mar 18 | 194 | $526/sf | 43 | 99 |
| Mar 25 | 189 | $510/sf | 44 | 104 |
| Apr 1 | 188 | $513/sf | 45 | 107 |
| Apr 8 | 215 | $512/sf | 45 | 104 |
| Apr 15 | 211 | $515/sf | 46 | 108 |
| Apr 22 | 201 | $513/sf | 49 | 117 |
| Apr 29 | 193 | $507/sf | 49 | 128 |
| May 6 | 211 | $506/sf | 49 | 121 |
| May 13 | 201 | $497/sf | 52 | 131 |
| May 20 | 207 | $507/sf | 48 | 129 |
| May 27 | 198 | $513/sf | 49 | 133 |
| Jun 3 | 197 | $510/sf | 51 | 129 |
| Jun 10 | 204 | $511/sf | 50 | 129 |
| Jun 17 | 198 | $506/sf | 55 | 117 |
| Jun 24 | 192 | $510/sf | 55 | 120 |
| Jul 1 | 198 | $503/sf | 56 | 119 |
| Jul 8 | 186 | $512/sf | 58 | 123 |
| Jul 15 | 191 | $504/sf | 57 | 126 |
| Jul 22 | 189 | $498/sf | 57 | 125 |
| Jul 29 | 192 | $494/sf | 56 | 120 |
| Aug 5 | 186 | $498/sf | 52 | 119 |
| Aug 12 | 180 | $486/sf | 52 | 114 |
| Aug 19 | 179 | $493/sf | 50 | 127 |
| Aug 26 | 183 | $518/sf | 45 | 120 |
| Sep 2 | 184 | $517/sf | 46 | 105 |
| Sep 9 | 182 | $508/sf | 48 | 105 |
| Sep 16 | 188 | $515/sf | 47 | 100 |
| Sep 23 | 185 | $530/sf | 46 | 93 |
| Sep 30 | 179 | $532/sf | 49 | 95 |
| Oct 7 | 179 | $533/sf | 50 | 97 |
| Oct 14 | 171 | $546/sf | 55 | 94 |
| Oct 21 | 165 | $551/sf | 55 | 99 |
| Oct 28 | 160 | $545/sf | 54 | 103 |
| Nov 4 | 151 | $541/sf | 53 | 103 |
| Nov 11 | 147 | $545/sf | 57 | 104 |
| Nov 18 | 142 | $563/sf | 58 | 103 |
| Nov 25 | 133 | $583/sf | 60 | 109 |
| Dec 2 | 125 | $559/sf | 64 | 108 |
| Dec 9 | 122 | $567/sf | 63 | 95 |
| Dec 16 | 111 | $566/sf | 62 | 90 |
| Dec 23 | 98 | $594/sf | 66 | 81 |
| Dec 30 | 94 | $597/sf | 70 | 70 |
| Jan 6 | 89 | $615/sf | 67 | 72 |
| Jan 13 | 93 | $598/sf | 65 | 71 |
| Jan 20 | 87 | $612/sf | 66 | 73 |
| Jan 27 | 93 | $589/sf | 59 | 65 |
| Feb 3 | 96 | $576/sf | 54 | 65 |
| Feb 10 | 94 | $559/sf | 62 | 84 |
| Feb 17 | 80 | $542/sf | 64 | 100 |
| Feb 24 | 90 | $530/sf | 61 | 97 |
| Mar 2 | 93 | $529/sf | 56 | 91 |
| Mar 9 | 100 | $537/sf | 46 | 98 |
| Mar 16 | 101 | $521/sf | 44 | 105 |
| Mar 23 | 111 | $522/sf | 44 | 90 |
| Mar 30 | 114 | $528/sf | 43 | 75 |
| Apr 6 | 115 | $528/sf | 50 | 69 |
| Apr 13 | 116 | $525/sf | 48 | 58 |
| Apr 20 | 118 | $539/sf | 52 | 57 |
| Apr 27 | 121 | $538/sf | 48 | 64 |
| May 4 | 122 | $524/sf | 50 | 72 |
| May 11 | 128 | $519/sf | 46 | 77 |
| May 18 | 151 | $520/sf | 40 | 69 |
| May 25 | 152 | $535/sf | 43 | 87 |
| Jun 1 | 147 | $540/sf | 42 | 109 |
| Jun 8 | 149 | $530/sf | 44 | 115 |
| Jun 15 | 146 | $518/sf | 42 | 125 |
| Jun 22 | 160 | $522/sf | 36 | 133 |
| Jun 29 | 153 | $524/sf | 35 | 137 |
| Jul 6 | 133 | $525/sf | 38 | 150 |
| Jul 13 | 127 | $526/sf | 36 | 152 |
| Jul 20 | 122 | $542/sf | 34 | 158 |
The $1,500,000 – $2,000,000 Market:
| | | | | |
| --- | --- | --- | --- | --- |
| Date | NSDCC Active Listings | Avg. LP/sf | Avg. DOM | # of Pendings |
| Jan 7 | 108 | $628/sf | 86 | 33 |
| Jan 14 | 107 | $647/sf | 83 | 37 |
| Jan 21 | 113 | $665/sf | 77 | 39 |
| Jan 28 | 116 | $676/sf | 76 | 42 |
| Feb 4 | 125 | $665/sf | 73 | 41 |
| Feb 11 | 131 | $670/sf | 72 | 43 |
| Feb 18 | 132 | $674/sf | 71 | 49 |
| Feb 25 | 130 | $670/sf | 66 | 53 |
| Mar 4 | 134 | $677/sf | 59 | 59 |
| Mar 11 | 143 | $674/sf | 57 | 53 |
| Mar 18 | 143 | $649/sf | 56 | 67 |
| Mar 25 | 133 | $642/sf | 56 | 66 |
| Apr 1 | 131 | $621/sf | 53 | 69 |
| Apr 8 | 139 | $618/sf | 49 | 77 |
| Apr 15 | 149 | $630/sf | 50 | 75 |
| Apr 22 | 145 | $616/sf | 50 | 72 |
| Apr 29 | 148 | $605/sf | 49 | 77 |
| May 6 | 157 | $606/sf | 48 | 74 |
| May 13 | 159 | $599/sf | 47 | 72 |
| May 20 | 170 | $612/sf | 48 | 73 |
| May 27 | 165 | $595/sf | 50 | 79 |
| Jun 3 | 172 | $607/sf | 52 | 70 |
| Jun 10 | 181 | $604/sf | 52 | 70 |
| Jun 17 | 186 | $610/sf | 56 | 69 |
| Jun 24 | 197 | $616/sf | 56 | 59 |
| Jul 1 | 195 | $600/sf | 58 | 65 |
| Jul 8 | 191 | $610/sf | 58 | 71 |
| Jul 15 | 194 | $601/sf | 58 | 69 |
| Jul 22 | 189 | $608/sf | 58 | 74 |
| Jul 29 | 194 | $606/sf | 60 | 73 |
| Aug 5 | 203 | $614/sf | 61 | 67 |
| Aug 12 | 207 | $612/sf | 64 | 65 |
| Aug 19 | 199 | $596/sf | 64 | 79 |
| Aug 26 | 200 | $598/sf | 64 | 79 |
| Sep 2 | 203 | $614/sf | 62 | 69 |
| Sep 9 | 195 | $600/sf | 66 | 73 |
| Sep 16 | 198 | $596/sf | 66 | 65 |
| Sep 23 | 197 | $590/sf | 68 | 75 |
| Sep 30 | 191 | $596/sf | 68 | 74 |
| Oct 7 | 184 | $608/sf | 70 | 77 |
| Oct 14 | 177 | $608/sf | 61 | 79 |
| Oct 21 | 177 | $600/sf | 62 | 71 |
| Oct 28 | 177 | $580/sf | 61 | 67 |
| Nov 4 | 170 | $595/sf | 62 | 67 |
| Nov 11 | 162 | $590/sf | 66 | 71 |
| Nov 18 | 150 | $602/sf | 69 | 70 |
| Nov 25 | 141 | $605/sf | 69 | 74 |
| Dec 2 | 130 | $600/sf | 69 | 73 |
| Dec 9 | 134 | $618/sf | 65 | 63 |
| Dec 16 | 126 | $620/sf | 70 | 59 |
| Dec 23 | 125 | $612/sf | 77 | 53 |
| Dec 30 | 113 | $627/sf | 79 | 62 |
| Jan 6 | 113 | $605/sf | 71 | 57 |
| Jan 13, 2020 | 113 | $664/sf | 67 | 59 |
| Jan 20 | 113 | $658/sf | 61 | 50 |
| Jan 27 | 103 | $654/sf | 66 | 59 |
| Feb 3 | 104 | $664/sf | 60 | 59 |
| Feb 10 | 110 | $667/sf | 54 | 62 |
| Feb 17 | 111 | $650/sf | 55 | 72 |
| Feb 24 | 110 | $634/sf | 60 | 76 |
| Mar 2 | 115 | $644/sf | 51 | 77 |
| Mar 9 | 121 | $665/sf | 50 | 80 |
| Mar 16 | 125 | $665/sf | 49 | 79 |
| Mar 23 | 119 | $665/sf | 52 | 70 |
| Mar 30 | 126 | $660/sf | 51 | 59 |
| Apr 6 | 130 | $650/sf | 51 | 56 |
| Apr 13 | 132 | $646/sf | 56 | 49 |
| Apr 20 | 138 | $658/sf | 53 | 47 |
| Apr 27 | 157 | $668/sf | 53 | 47 |
| May 4 | 151 | $665/sf | 59 | 53 |
| May 11 | 150 | $650/sf | 63 | 60 |
| May 18 | 156 | $650/sf | 64 | 58 |
| May 25 | 169 | $643/sf | 61 | 61 |
| Jun 1 | 162 | $655/sf | 62 | 76 |
| Jun 8 | 168 | $655/sf | 64 | 70 |
| Jun 15 | 161 | $668/sf | 61 | 84 |
| Jun 22 | 170 | $678/sf | 56 | 96 |
| Jun 29 | 170 | $686/sf | 59 | 94 |
| Jul 6 | 160 | $700/sf | 60 | 92 |
| Jul 13 | 155 | $683/sf | 56 | 106 |
| Jul 20 | 156 | $692/sf | 56 | 109 |
The $2,000,000 – $3,000,000 Market:
| | | | | |
| --- | --- | --- | --- | --- |
| Date | NSDCC Active Listings | Avg. LP/sf | Avg. DOM | # of Pendings |
| Dec 30, 2019 | 161 | $744/sf | 106 | 33 |
| Jan 6, 2020 | 147 | $756/sf | 97 | 31 |
| Jan 13, 2020 | 149 | $755/sf | 94 | 27 |
| Jan 20, 2020 | 150 | $749/sf | 89 | 27 |
| Jan 27, 2020 | 154 | $738/sf | 91 | 29 |
| Feb 3, 2020 | 162 | $745/sf | 86 | 33 |
| Feb 10, 2020 | 169 | $753/sf | 83 | 33 |
| Feb 17, 2020 | 166 | $735/sf | 81 | 43 |
| Feb 24, 2020 | 155 | $737/sf | 86 | 58 |
| Mar 2, 2020 | 156 | $731/sf | 78 | 55 |
| Mar 9, 2020 | 157 | $726/sf | 78 | 61 |
| Mar 16, 2020 | 166 | $736/sf | 75 | 57 |
| Mar 23, 2020 | 167 | $730/sf | 79 | 45 |
| Mar 30, 2020 | 163 | $734/sf | 80 | 44 |
| Apr 6, 2020 | 153 | $771/sf | 81 | 37 |
| Apr 13, 2020 | 159 | $765/sf | 78 | 33 |
| Apr 20, 2020 | 153 | $773/sf | 80 | 37 |
| Apr 27, 2020 | 156 | $761/sf | 82 | 29 |
| May 4, 2020 | 165 | $756/sf | 77 | 24 |
| May 11, 2020 | 162 | $772/sf | 77 | 27 |
| May 18, 2020 | 163 | $784/sf | 79 | 31 |
| May 25, 2020 | 157 | $779/sf | 79 | 39 |
| June 1, 2020 | 141 | $787/sf | 79 | 49 |
| June 8, 2020 | 141 | $785/sf | 82 | 49 |
| June 15, 2020 | 148 | $798/sf | 73 | 60 |
| June 22, 2020 | 144 | $810/sf | 78 | 63 |
| June 29, 2020 | 146 | $795/sf | 80 | 61 |
| July 6, 2020 | 136 | $799/sf | 80 | 59 |
| July 13, 2020 | 137 | $824/sf | 77 | 62 |
| July 20, 2020 | 142 | $851/sf | 67 | 72 |
The $3,000,000+ Market:
| | | | | |
| --- | --- | --- | --- | --- |
| Date | NSDCC Active Listings | Avg. LP/sf | Avg. DOM | # of Pendings |
| Dec 30, 2019 | 267 | $1,226/sf | 144 | 28 |
| Jan 6, 2020 | 246 | $1,218/sf | 138 | 29 |
| Jan 13, 2020 | 256 | $1,173/sf | 133 | 28 |
| Jan 20, 2020 | 261 | $1,158/sf | 128 | 27 |
| Jan 27, 2020 | 258 | $1,163/sf | 128 | 27 |
| Feb 3, 2020 | 258 | $1,162/sf | 127 | 32 |
| Feb 10, 2020 | 259 | $1,172/sf | 124 | 37 |
| Feb 17, 2020 | 265 | $1,140/sf | 118 | 36 |
| Feb 24, 2020 | 268 | $1,150/sf | 120 | 39 |
| Mar 2, 2020 | 267 | $1,119/sf | 121 | 37 |
| Mar 9, 2020 | 276 | $1,118/sf | 119 | 38 |
| Mar 16, 2020 | 276 | $1,116/sf | 118 | 40 |
| Mar 23, 2020 | 256 | $1,142/sf | 128 | 40 |
| Mar 30, 2020 | 244 | $1,150/sf | 131 | 40 |
| Apr 6, 2020 | 231 | $1,168/sf | 129 | 28 |
| Apr 13, 2020 | 230 | $1,183/sf | 132 | 25 |
| Apr 20, 2020 | 224 | $1,165/sf | 138 | 26 |
| Apr 27, 2020 | 221 | $1,197/sf | 137 | 22 |
| May 4, 2020 | 235 | $1,194/sf | 131 | 25 |
| May 11, 2020 | 252 | $1,173/sf | 129 | 23 |
| May 18, 2020 | 261 | $1,160/sf | 127 | 23 |
| May 25, 2020 | 271 | $1,156/sf | 125 | 26 |
| June 1, 2020 | 270 | $1,164/sf | 124 | 34 |
| June 8, 2020 | 264 | $1,173/sf | 125 | 39 |
| June 15, 2020 | 270 | $1,158/sf | 121 | 41 |
| June 22, 2020 | 282 | $1,162/sf | 117 | 49 |
| June 29, 2020 | 287 | $1,152/sf | 118 | 47 |
| July 6, 2020 | 288 | $1,145/sf | 115 | 57 |
| July 13, 2020 | 276 | $1,163/sf | 116 | 62 |
| July 20, 2020 | 280 | $1,153/sf | 115 | 62 |
Weekly NSDCC New Listings and New Pendings
Jan 7, 2019
92
24
203
| | | | |
| --- | --- | --- | --- |
| Week | New Listings | New Pendings | Total Pendings |
| Jan 14 | 81 | 35 | 205 |
| Jan 21 | 77 | 33 | 196 |
| Jan 28 | 87 | 47 | 217 |
| Feb 4 | 92 | 45 | 233 |
| Feb 11 | 83 | 48 | 255 |
| Feb 18 | 84 | 52 | 263 |
| Feb 25 | 72 | 39 | 261 |
| Mar 4 | 113 | 52 | 267 |
| Mar 11 | 122 | 63 | 284 |
| Mar 18 | 100 | 64 | 302 |
| Mar 25 | 95 | 70 | 324 |
| Apr 1 | 87 | 53 | 331 |
| Apr 8 | 113 | 58 | 342 |
| Apr 15 | 104 | 59 | 341 |
| Apr 22 | 94 | 67 | 353 |
| Apr 29 | 117 | 74 | 367 |
| May 6 | 113 | 67 | 364 |
| May 13 | 86 | 48 | 362 |
| May 20 | 132 | 55 | 357 |
| May 27 | 100 | 78 | 375 |
| Jun 3 | 109 | 55 | 365 |
| Jun 10 | 106 | 54 | 366 |
| Jun 17 | 94 | 59 | 363 |
| Jun 24 | 97 | 63 | 344 |
| Jul 1 | 89 | 53 | 343 |
| Jul 8 | 81 | 66 | 363 |
| Jul 15 | 115 | 59 | 364 |
| Jul 22 | 89 | 72 | 367 |
| Jul 29 | 102 | 47 | 354 |
| Aug 5 | 102 | 47 | 336 |
| Aug 12 | 96 | 51 | 328 |
| Aug 19 | 89 | 61 | 350 |
| Aug 26 | 86 | 40 | 326 |
| Sep 2 | 67 | 44 | 300 |
| Sep 9 | 75 | 52 | 305 |
| Sep 16 | 102 | 46 | 296 |
| Sep 23 | 67 | 59 | 301 |
| Sep 30 | 68 | 56 | 306 |
| Oct 7 | 76 | 44 | 305 |
| Oct 14 | 78 | 51 | 302 |
| Oct 21 | 71 | 49 | 296 |
| Oct 28 | 76 | 55 | 291 |
| Nov 4 | 87 | 54 | 283 |
| Nov 11 | 61 | 52 | 291 |
| Nov 18 | 69 | 50 | 288 |
| Nov 25 | 60 | 57 | 303 |
| Dec 2 | 19 | 34 | 297 |
| Dec 9 | 58 | 29 | 261 |
| Dec 16 | 45 | 40 | 251 |
| Dec 23 | 32 | 37 | 232 |
| Dec 30 | 16 | 26 | 226 |
| Jan 6 | 56 | 21 | 218 |
| Jan 13 | 76 | 33 | 214 |
| Jan 20 | 71 | 53 | 217 |
| Jan 27 | 62 | 38 | 220 |
| Feb 3 | 75 | 46 | 232 |
| Feb 10 | 97 | 72 | 265 |
| Feb 17 | 82 | 58 | 300 |
| Feb 24 | 70 | 53 | 316 |
| Mar 2 | 79 | 55 | 301 |
| Mar 9 | 106 | 66 | 328 |
| Mar 16 | 83 | 55 | 329 |
| Mar 23 | 59 | 31 | 289 |
| Mar 30 | 63 | 31 | 251 |
| Apr 6 | 57 | 21 | 219 |
| Apr 13 | 48 | 17 | 194 |
| Apr 20 | 63 | 29 | 192 |
| Apr 27 | 79 | 40 | 205 |
| May 4 | 86 | 40 | 208 |
| May 11 | 91 | 48 | 226 |
| May 18 | 95 | 44 | 224 |
| May 25 | 121 | 69 | 266 |
| Jun 1 | 81 | 92 | 332 |
| Jun 8 | 88 | 67 | 338 |
| Jun 15 | 104 | 82 | 374 |
| Jun 22 | 112 | 78 | 409 |
| Jun 29 | 85 | 69 | 402 |
| Jul 6 | 83 | 88 | 418 |
| Jul 13 | 105 | 93 | 447 |
| Jul 20 | 106 | 98 | 466 |