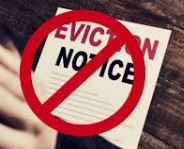 Tom T. and I were lamenting earlier this week about the plight of the mom-and-pop landlords due to the ban on evictions – because some tenants are taking advantage.  The ban might get extended too:
Senator Elizabeth Warren (D-MA) and Representatives Jesús "Chuy" Garcia (D-IL) and Barbara Lee (D-CA) introduced legislation on June 29 that would extend and expand a nationwide eviction moratorium to protect tenants who have been impacted by the coronavirus pandemic. The "Protecting Renters from Evictions and Fees Act of 2020" would extend the federal eviction moratorium until March 27, 2021, one year after the date of enactment of the "Coronavirus Aid, Relief, and Economic Security (CARES) Act," and expand the moratorium to cover all renters. The bill would also prohibit fees, fines, and extra charges due to nonpayment of rent.
The federal eviction moratorium included in the CARES Act covers fewer than 30% of renters, and it is set to expire on July 25, 2020. Advocates warn of a surge in evictions and a spike in homelessness if Congress does not intervene. The "Protecting Renters from Evictions and Fees Act of 2020" aims to ensure renters will not lose their housing if they experience economic hardship during the crisis and need additional time to make payments.
"Without a significant federal intervention, there will be a rash of evictions and a spike in homelessness across the country," said NLIHC President and CEO Diane Yentel. "Ensuring housing stability for all is both a moral imperative and a public health necessity. I applaud Senator Warren and Representatives García and Lee for introducing legislation today that will keep renters in their homes and give them the security and stability needed to stay safe throughout the duration of the pandemic."
Read Senator Warren's press release at: https://bit.ly/2Bvj5Xz
Read a fact sheet on the bill at: https://bit.ly/3eTk8Pu
If you, or someone you know, is thinking about disposing of a property that is tenant-occupied, contact me today.  I have a wealth of experience in convincing tenants to move!