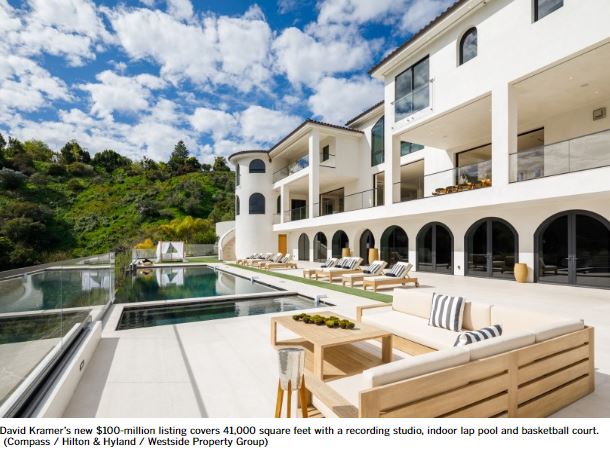 Some market observations:
Ira Meltzer is the busiest he's been in 35 years. As the managing director of residential financing firm One Million Dollar Plus, he specializes in securing massive home loans for celebrities. Over the next month, he's set to close more than $90 million in financing.
Apparently, the ultra-rich are still buying homes.
Although sales on the lower end of the market have all but seized up, the pandemic (and the new showing restrictions that have resulted from it) has done little to slow L.A.'s luxury market.
In 2019, L.A. County recorded 85 residential sales of $5 million or more in March and April combined, according to the Multiple Listing Service. During the same period this year, the county saw 82 home sales of $5 million or more, including 14 transactions north of $10 million.
With interest rates hitting historic lows, buyers with plenty of cash on hand are still hunting for deals. In April, Kylie Jenner turned heads when she dropped $36.5 million on a modern compound in Holmby Hills. The reality star got a decent discount as well, as the 15,000-square-foot stunner first hit the market last summer for $55 million.
The luxury market received another shot in the arm in the same month as a Bel-Air estate once owned by former Los Angeles Rams owner Georgia Frontiere traded hands for a whopping $43.3 million. That's one of the priciest sales L.A. County has seen this year.
David Kramer, an agent with Hilton & Hyland, recently sold the longtime Bel-Air home of late auto titan Lee Iacocca for $19.5 million.
Is now a good time to buy a $50-million house? "Not to sound so much like a Realtor, but yes."
The next few months could be a unique opportunity to land a trophy home that wouldn't otherwise be available. There are certain homes in L.A. that you'll never see on the market unless someone dies, Kramer said, but recessions bring motivated sellers out of the woodwork.
During the recession in 2008, a bevy of impressive estates surfaced for sale, including Cher's Malibu villa at $45 million, Nicolas Cage's Bel-Air Tudor at $30 million and Kelsey Grammer's English Country-style home at $19.9 million. In Beverly Hills, a prized property once owned by newspaper czar William Randolph Hearst hit the market for $165 million.
Celebrities bought plenty of properties as well. Media mogul David Geffen dropped $10 million on a two-bedroom spot on Malibu's Carbon Beach, and Donald Trump tried to take advantage of the market too, promising to buy Ed McMahon's Bel-Air abode to save it from foreclosure. After months of speculation, however, he didn't close the deal.
"When things go bad, you see legacy homes sell at reasonable prices," said Kramer, who just listed a gargantuan Spanish villa of more than 40,000 square feet for $100 million in Bel-Air. "People think those in the high-end market won't be affected, but they love deals. If you're looking at a good price for a property — combined with a good loan — that's a deal. There are definitely some more big sales coming."
Many sellers are nervous about listing their home in what appears to be a buyers' market, but one way the Multiple Listing Service is assuaging their fears is removing the days-on-market data, which can be leveraged into lower offers. If buyers see a property has been on the market for more than 100 days, they're much more likely to seek a bargain than if something was just listed last week.
Michael Razak, a mortgage advisor with Finance of America, said another factor pushing sales through earlier in the pandemic was fear of the unknown. Sellers in escrow before COVID-19 experienced a significant fallout, but those who were smart enough to keep their buyer on board — whether by giving a credit or another concession — were able to close their transactions and move on.
"For some sellers, getting a deal done was more important than giving away $10,000," Razak said. "And for the buyers who stayed in it, they got a little something extra."
At the top of the market, sellers base their decisions on emotions rather than finances, he said. And as for house hunters, "a buyer buying a $40-million home isn't worried about COVID-19."
"At that price point, it's all psychological," he said. "As long as they are feeling good about their investment, they are going to continue to make moves. Their lives aren't very affected."
The ultra-rich aren't just buying. With such low interest rates, those who can afford it are making moves such as refinancing and getting loans for ambitious remodels. One of Meltzer's celebrity clients is taking out a $49-million loan to refinance and remodel their home, which he said will be the largest private construction loan in the country.
The wealthy are receiving loans much more quickly than the average homeowner, Meltzer said, because the private banks he works with give higher priority to those borrowing $10 million or more.
"If you're a celebrity or a wealthy client, you get much different treatment," he said. "My clients asking for over $10 million are easily getting loans in the 2% range," noting that their rates are usually a full percentage point lower than the average client's. "If you can buy a trophy property with a 2% mortgage rate, now's the time to do it."
Some high-end agents, such as Stephen Shapiro of Westside Estate Agency, aren't so optimistic about the market.
"Some people say things are going great. They're not going great," said Shapiro, noting that he has seen sales drop roughly 30% over the last month.
He added that buyers shopping in the eight-figure price range can take years to find the right home. If they can afford a $50-million property, they're probably living in a pretty great house already, so there's not an urgent need to find something under these conditions.
Many of the sales closing had already gone into escrow before the pandemic broke out, and buyers still in escrow are doing one of three things: backing out, asking for an extension or renegotiating.
Motivated sellers have been luring deal-seekers with price cuts, but many are simply withdrawing their high-end properties altogether. "If someone doesn't have to sell, this isn't the environment you want to sell in," Shapiro said.
On a more practical note, another reason some buyers won't pull the trigger on homes of such caliber is that they're simply unable to tour them because of social distancing measures. Virtual tour technology has developed significantly in recent years, but Shapiro doesn't think an ultrarealistic 3-D walk-through will be enough to close the deal in the ultra high-end market.
"Virtual tours will be used as an eliminating factor, not a buying factor," he said. "There's so much underrepresentation in those photos. They don't show you how close you are to your neighbor, or that your hillside view is actually overlooking someone's roof."
https://www.latimes.com/business/real-estate/story/2020-05-07/during-coronavirus-luxury-housing-booming