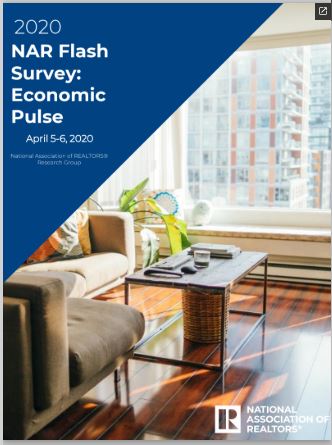 Buyer interest declined by 90%? I think they meant that 90% of buyers don't want to risk their life to see a home in person – they are still interested in the market as seen from the couch.
NAR's latest Economic Pulse Flash Survey – conducted April 5-6, 2020 – asked members questions about how the coronavirus outbreak has impacted the residential and commercial real estate markets. Several highlights of the member survey include:
Due to the outbreak, 90% of members said buyer interest declined and 80% of members cited a decline in the number of homes on the market.
Home prices look to hold steady after rising robustly before the pandemic. Almost three in four members – 72% – said sellers have not reduced prices to attract buyers. Conversely, more than six in 10 members – 63% – said buyers are expecting a decline in home prices as buyers sense less competition in the current environment.
Technology plays a vital role as the real estate industry adapts to the new reality of managing deals virtually with social distancing directives in place. Members said the most common technology tools used to interact with clients are e-signatures, social media, messaging apps and virtual tours.
Residential tenants are facing rent payment issues, but many delayed payment requests are being accommodated. Nearly half of property managers – 46% – reported being able to accommodate tenants who cannot pay rent and more than a quarter of individual landlords – 27% – said the same. The recently enacted Coronavirus Aid, Relief, and Economic Security Act includes provisions on eviction prevention and small business loans and grants that are critical to keeping the rental market steady.
View NAR's Economic Pulse Flash Survey full report here:
https://www.nar.realtor/research-and-statistics/research-reports/nar-flash-survey-economic-pulse