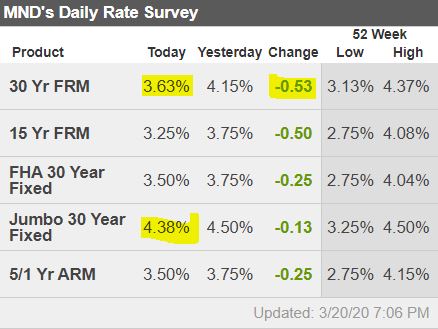 As expected, the COVID-19 news continues to worsen.  But escrows in process should have a good chance of closing, as long as buyers are satisfied, and the sales count should be fine for a week or two.
Then what?
Mike DelPrete offered the following data:
The following chart shows property transactions in China during the early stages of the outbreak. Transactions dropped significantly — nearly 100 percent — during a number of weeks during the crisis, and are now growing again (but still down over 50 percent from last year).
There are similar results in Italy, with a top portal telling me that they expect transaction volumes to be down 20–40 percent in February and 70–90 percent in March. Another source cites that visits to apartments for sale in early March were down more than 50 percent compared to a year ago.
~~~~~~~~~~~~~~~~~~~~~~~~~~~~~~~~~~~~~~~~~~~~~~~~~~~~~~~~
Will our sales will be down the 20-40 percent this month, and down 70-90 percent next month?
Probably.
With the California Association of Realtors issuing a strong warning to agents to abide by the governor's request for non-essential workers to stay home, it's almost a certainty that new pendings will stop now.  Agents will be in awe, and wait for others to figure out how to sell homes during the lockdown.
Can agents go to work?
There is are some vague categories in the official document, EssentialCriticalInfrastructureWorkers so there is some interpretation available for those who want to push it.
Two things about the governor's stay-at-home plan: 1) Walking is permitted, and 2) He said law enforcement won't be busting people.  It makes it sound like it's your choice, but lives could be on the line.
Will buyers engage?
Let's stick with the math.
If sales next month go down 70-90 percent, it means we lost at least half of the buyer pool.
It's natural to expect that the lesser-motivated half of the buyer pool will check out – but they weren't going to matter anyway because the other half of potential buyers were more motivated.
Buyers who are motivated will keep watching, but there won't be many new listings to consider……and buyer malaise will set in.  You know the feeling – when you get so discouraged that you don't check every auto-notification, figuring it's just another dud with lousy photos and no easy path to buy it anyway.
Many will decide that it will take a miracle to buy a house now!
Sellers will check out too, and many of the active listings will cancel, why?  Because sellers and agents can't imagine how to sell a house except by showing it in person to strangers who could give you the virus. Any listings that are occupied will probably shut it down.
If we lose half the buyers and sellers, then we'll be lucky if sales only drop 70 to 90 percent!
Can agents adapt?
What do we need to do?
Let's sell by video!  I'll show you later this week.
What will it take to sell your home during the lockdown?
You need to be the best buy in the neighborhood, and in the top 10% of active listings within a mile or two radius.
You need to have a fantastic video presentation, and be willing to accept an offer from a buyer who hasn't been inside.  Once you designate the buyer, then they will walk over for a showing in person.  There will be two other visits – the home inspector will spend 3-4 hours, and the appraiser will spend about 30 minutes.  But that's it, and those three intrusions should be manageable, though it would be best if the sellers move out before we begin.
There needs to be give-and-take on all sides.  Agents have to deliver a quality video presentation – preferably without elevator music and cheesy marketing.  Buyers need vision – they need to master video as their preferred way of seeing homes in the new social-distancing era.  And escrow has to go perfectly.
It will be the future of real estate sales.
Should sellers wait it out?
Yes, for almost all sellers – those who don't need to sell in the next 3-6 months.
It will be smart for the aspirational sellers – those who will only sell at the higher end of the range – to wait until other sellers go first, and let them leave a decent set of post-virus comps upon which to build a case for retail pricing.  Everyone expects the 'pent-up demand' to set off a frenzy, but after 1,000s of Americans don't survive the virus, the marketplace could be quite somber – especially if rates are above 4%.  But hopefully we will see full recovery within 6-12 months after the virus pandemic is declared over.
Trump will declare victory well in advance of the experts, and it could ignite his followers.  Any lull in the market could be over sooner than you think.  More on that next!