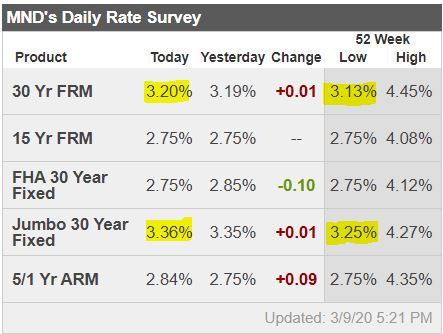 Even though the ten-year yield has plummeted, mortgage rates have been slow to follow – they actually went up a little today.  Today, we heard the all-time best excuse, which explained everything:
"We're too busy", said the mortgage industry, which is code for 'we are going to milk this for extra profits!'
Historically, the conforming mortgage rates could be calculated by adding 1.75% to the 10-yr, but today that would get us 2.25% mortgage rates.  Here is their greed meter – unprecedented spread here: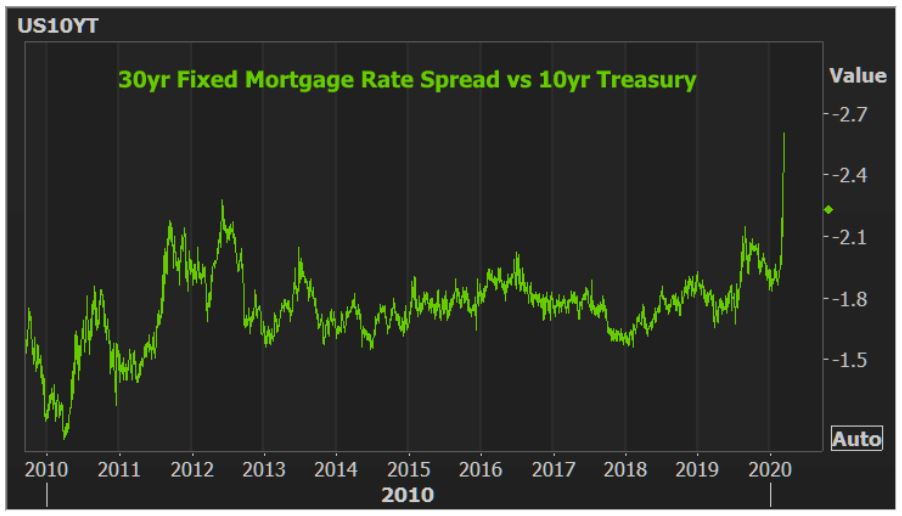 Here's what Ted said at MND:
Financial markets are in total disarray, some lenders are not accepting new loans or locks, and lock pricing engines are crashing repeatedly due to excessive volume.  If this sounds like a mess, it is.  While this panic won't subside overnight, if you like your current pricing and lender is locking loans, why not lock?  There's no logic or reason in this market now, who knows what the mood will be tomorrow/next week?
Futures are in positive territory currently, so it appears we may have seen the worst for now.
If the mortgage industry doesn't feel like sharing the wealth, then you might as well lock your rate.