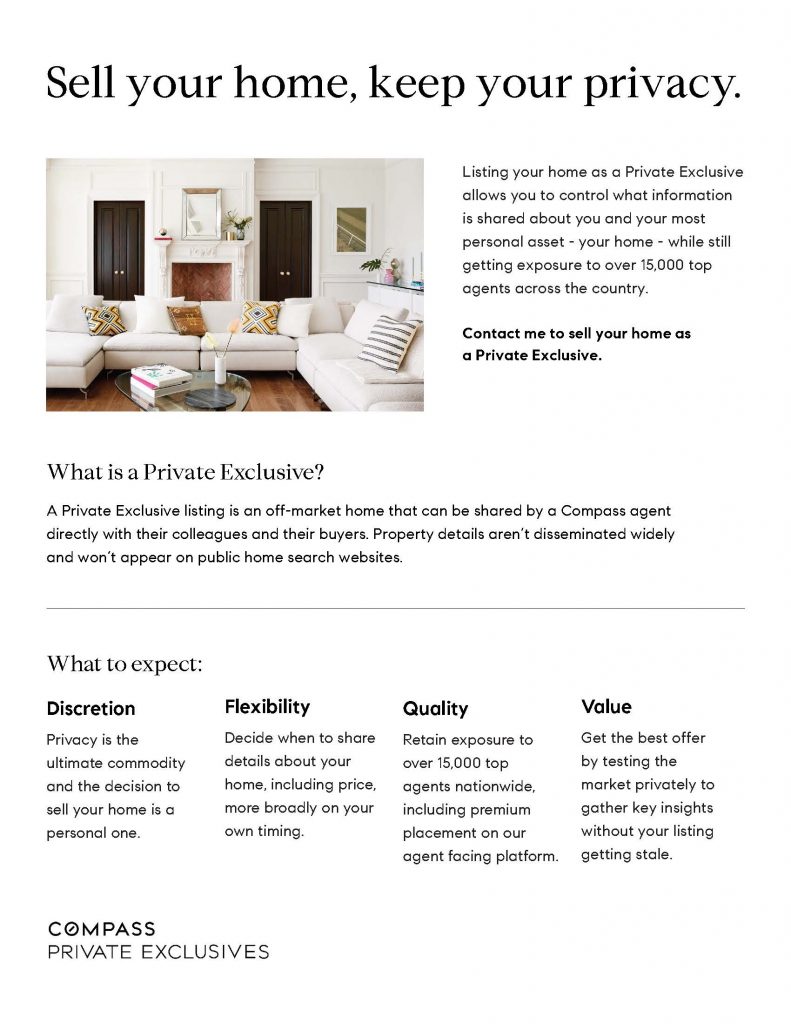 When we joined Compass in the summer of 2018, it was clear that the evolution of residential resales was trending towards off-market sales.  I said then, "we have to make sure that we're on the right team".
The National Association of Realtors tried to affect the outcome with their Clear Cooperation policy by making off-market sales acceptable as long as they are done in-house with no public marketing. Like all policy-making done by ivory-tower types who don't relate to the reality on the street, they have legitimized a new opportunity for gaming the system.
I think the intention of NAR was to allow for the occasional private sale by celebrities.  What they must not have considered was that all brokerages would design their own in-house system to provide privacy for anyone who wants it.
Then the coronavirus starts sweeping the country – won't every seller want their privacy today?  Are you going to let dozens of strangers into your house?  You and your family could die!  You need to sell your home privately.
The NAR policy makes sellers and listing agents pick a path – either the property gets listed on the MLS within 24 hours after public marketing begins, or you sell it off-market. If the private sale doesn't work, sellers can opt for the more-public MLS sale later, so trying the safer route will be an easy choice for many.
Who do you list with?
What brokerage has the best chance of selling your home for top dollar now?
Compass has the in-house system, over 800 of the top agents in San Diego County, and we are ranked #1 in market share in Carlsbad and Encinitas.  We are ideally suited to serve the private-sale market, and now we're advertising it publicly.
Eventually, the MLS (and Zillow) will become the online marketplace of last resort like Loopnet, and buyers will be forced to work with an agent in every brokerage if they want to see all the inventory.
Why didn't NAR see that coming?