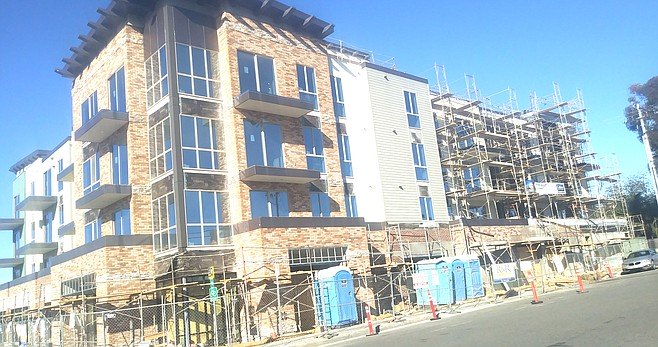 "It used to be the Village by the Sea. But it's not a village anymore when you can build buildings that are four stories tall…really five when you count the top deck."
DeeDee Trejo was born and raised in Carlsbad. She operates Lola's Seven-Up Market on Roosevelt Street. It was founded by her family in Carlsbad's first neighborhood, the so-called Barrio, a historic residential area between I-5 and the Carlsbad Boulevard/101 just south of Carlsbad Village Drive. Lola's opened in 1943, nine years before Carlsbad became a city.
Trejo's family lives near the market. "I can't even have a BBQ at my house and have people over because they can't find a spot to park."
The Carlsbad city council last week made some changes to its Village and Barrio Master Plan approved last year. But unchanged is the fact that four-story buildings (45 feet maximum) can still be built in the downtown Village business district. Village parking regularly overflows into the adjacent Barrio district.
Consider the under-construction State Mixed Use 30 development, a four-story mixed-use project on the corner of State and Oak streets. It sits on the border of the Village and Barrio districts. The first floor is designated commercial while the second, third and fourth floors will be 27 condos (14 for sale, 13 time shares). The project is being built with 33 on-site spaces dedicated to the residents. Any overflow residential parking and all the commercial parking will have to find parking space in the already overwhelmed streets of the Village and Barrio districts.
How was this development allowed to happen? Carlsbad senior planner Scott Donnell says the city planning commission signed off on it after the developer agreed to pay for 20 "in lieu parking fees." This means that instead of providing adequate parking as mandated by law, the city allowed the developer to pay approximately $11,000 for each space into a city fund. That pot of cash is to be used by the city to acquire property for parking and/or build a parking structure.
Donnell says at present he is not aware of any plans for Carlsbad to buy property or build a parking structure.
Link to Reader article