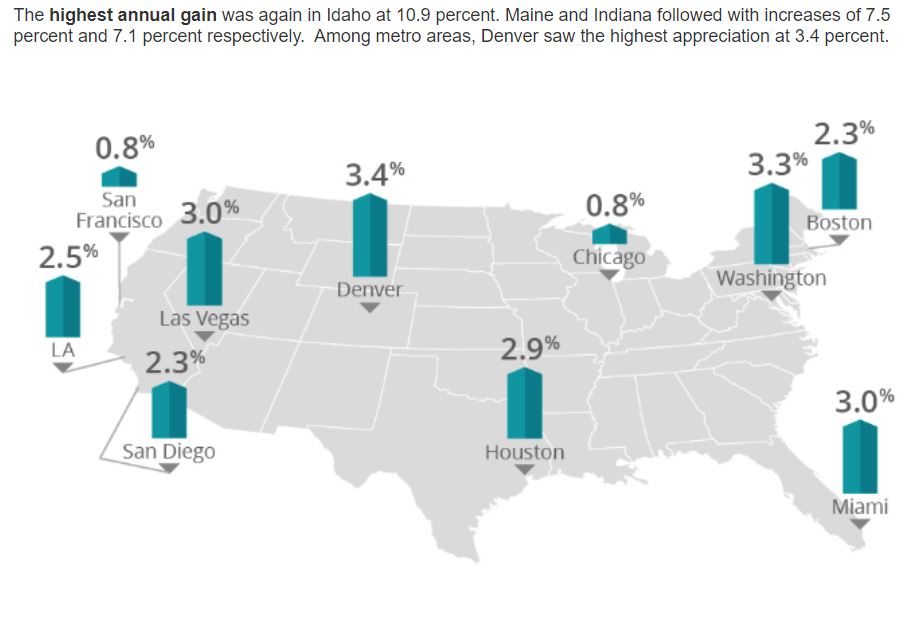 These guys don't release their local forecasts:
Home prices increased on an annual basis by 3.5 percent in October according to CoreLogic's Home Price Index (HPI).  The index rose 0.2 percent from the previous month.
The rate of increase in home prices appears to have stabilized for the moment.  After trending higher for several years, the HPI hit a recent peak of 6.62 percent in April 2018, then decelerated to 3.53 percent by the following March.  Since then it has moved back and forth over a narrow range, 3.3 to 3.6 percent.
Frank Nothaft, CoreLogic's chief economist, said "Local home-price growth can deviate widely from the change in our U.S. index. While we saw prices up 3.5 percent nationally last year, home prices also declined in 22 metropolitan areas. Price softness occurred in some high-cost urban areas and in metros with weak employment growth during the past year."
The CoreLogic HPI Forecast indicates that home prices will increase by 5.4 percent on a year-over-year basis from October  2019 to October 2020. They are expected to increase by 0.2 percent from October to November of this year.  The CoreLogic HPI Forecast is a projection of home prices using the CoreLogic HPI and other economic variables.
CoreLogic's current Market Conditions Indicators (MCI) show 35 of the country's 100 largest metropolitan areas based on housing stock were overvalued as of October.  The MCI analysis categorizes home prices in individual markets as undervalued, at value or overvalued by comparing home prices to their long-run, sustainable levels, which are supported by local market fundamentals such as disposable income.  Those markets where home values are 10 percent higher than those long-term levels are considered overvalued and those 10 percent below are considered undervalued.  The MCI placed 27 areas in the undervalued category and 38 at value as of October.
During the second quarter of 2019, CoreLogic, together with RTi Research of Norwalk, Connecticut, surveyed Millennials about their housing sentiments. Three out of four told researchers they are confident they would qualify for a loan with their current financial situation. Still, despite this confidence, more than half of the cohort cites buying a home as a stressful experience, noting spending the majority of their savings as one of the leading stressors.
http://www.mortgagenewsdaily.com/12032019_corelogic_hpi.asp