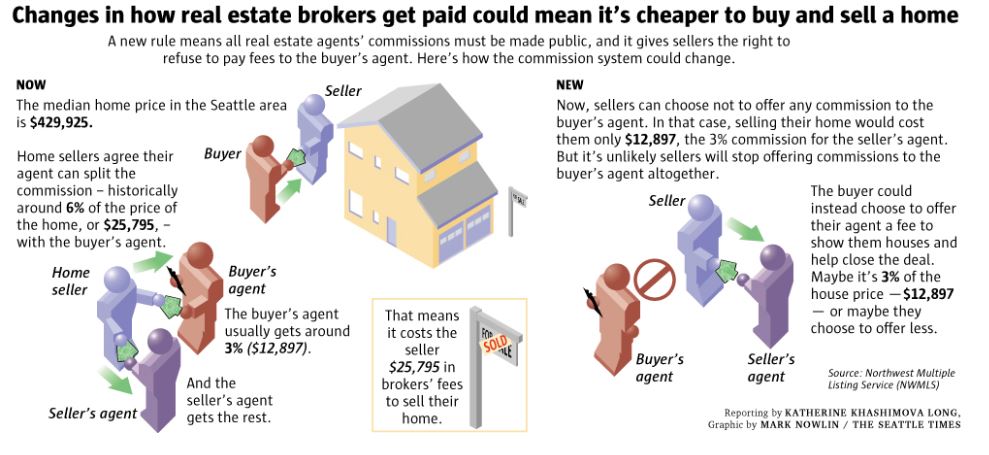 Historically, buyer-agents haven't really had to demonstrate their true value – most buyers just grab somebody they like.  But now the buyer-agent compensation is going to be revealed in Washington, starting tomorrow – and it is inevitable that it will happen everywhere.  Buyers making smarter decisions about who represents them is a great idea – hopefully they won't select their realtor purely based on their rate! P.S. This is buyer-side only. I'm not sure the listing-agent rate will ever be public.
Hat tip to SM for sending this in:
Link to Full Article
An excerpt:
Starting immediately, the new rules will make it easier for homebuyers to figure out if their agent is only showing them houses offering a high buyer's commission, said Greg Gans, a broker at Hardy Realty in Seattle who describes himself as "almost exclusively" a buyer's agent.
"I know plenty of agents who see a 1% commission, and they'll show the house, but they'll say, 'Oh, this is a problem, and you're going to have to spend this amount of money on the kitchen,'" Gans said. "Brokers think of crafty ways to steer people away from homes where they're not going to get the full commission. Or brokers may not put together the most competitive offer" on homes offering low commission.
In the long term, though, the change could lead to a system where buyers and sellers each compensate their own agent, said Windermere broker Russ Cofano, instead of funneling commission through the seller's agent. That could make it less expensive to sell a home.