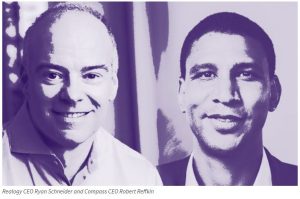 The way this is going, Realogy is going to get stripped down and sold for parts:
With his back against the mats, Realogy CEO Ryan Schneider considered selling the brokerage to its chief rival: Compass.
In a statement Friday, the SoftBank-backed brokerage said Schneider even proposed a plan where the arch enemies would form a joint venture — a proposal Compass said it declined.
The statement was made in conjunction with Compass' motion to dismiss an explosive lawsuit filed by Realogy earlier this summer. In the suit, Realogy accused Compass of illegal business practices, including "predatory" poaching and attempts at collusion.
"The motion reveals the lawsuit for what it is: an act of desperation in response to Realogy's rapidly eroding market share," a Compass spokesperson said in a statement Friday.
In the statement, Compass said if Realogy's suit is not dismissed, Compass intends to file counterclaims against the New Jersey-based conglomerate, the parent company of the Corcoran Group and Coldwell Banker.
Link to Full Article