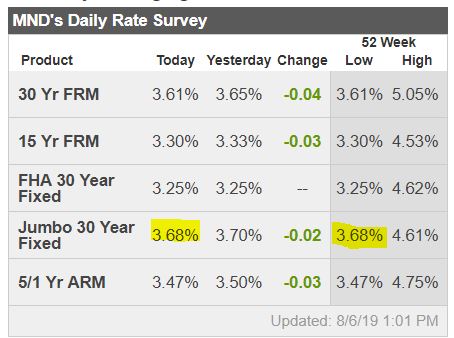 Mortgage rates took a tumble yesterday:
Mortgage rates were already in great shape on Friday after having fallen to the lowest levels since November 2016.  Rather than draw inspiration from the week's big ticket events (Fed announcement and jobs report), the biggest source of inspiration was a flare-up in trade tensions following Trump's announcement of new tariffs on Chinese imports.  Trade war drama flared over the weekend as China's central bank set the country's currency at the weakest levels in more than a decade.
What does Chinese currency have to do with US mortgage rates?  Quite a lot, really!  The outright level of Chinese Yuan versus the US dollar is not what's important here.  Rather, it was the fact that such a move was directed by the Chinese government in an obvious retaliation to Trump's trade war escalation.  In other words, if the US is going to raise tariffs, then China is going to cheapen its currency so the US will be able to keep buying Chinese goods.  Simply put, this is another major escalation of the trade war.   That's clearly negative for the global economy and economic weakness helps rates move lower.
While 30-yr jumbo rates at 3.68% (with no points) might only be mildly interesting to those who have been around (mortgage rates have been in the threes and fours for the last eight years), the segment of the market that might be energized are the move-up-or-down buyers who have felt locked in because of their low rate.
Those who purchased/refinanced with a 3-something rate can now move and get the same rate, or better!