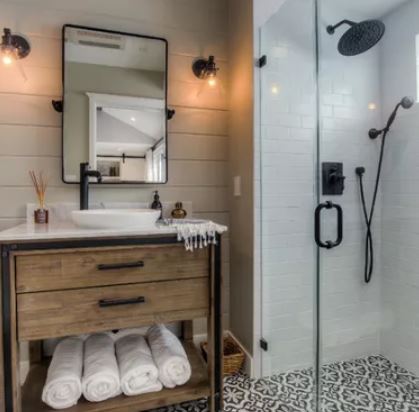 Earlier this week the grays were on their way out, but it may take a while.  Can you believe that 34% are removing the bathtub? From Houzz:
Anticipating Aging Needs: The majority of baby boomers (ages 55 or older) are addressing current or future needs of aging household members during master bathroom renovations (56%). One-third of boomers are addressing current aging needs (35%), while nearly a quarter are planning ahead for future needs (21%).
Curbless Enthusiasm: Nearly half of boomers change the bathroom layout and one-third remove the bathtub (47% and 34%, respectively). Other upgrades include installing accessibility features such as seats, low curbs, grab bars and nonslip floors in upgraded showers and bathtubs.
The Suite Life: Homeowners are focusing on the master suite as a whole, with nearly half of master bathroom projects accompanied by master bedroom renovations (46%). Master bathrooms command the second-highest median spend ($7,000) in home remodels, behind kitchens ($11,000), while master bedroom spend rivals that of living rooms ($2,000 versus $3,000, respectively).
Premium Features Galore: A surprising one in 10 master bathrooms is the same size or larger than the master bedroom (11%). Beyond size, premium features in master bathrooms are on the rise, with dual showers, one-piece toilets, vessel sinks and built-in vanities showing significant increases in demand in the last three years.
Bathed in Gray: Gray palettes continue to lead in walls and flooring and are increasingly popular in cabinets. Newcomer styles continue to overtake contemporary style, with farmhouse more than doubling in popularity, from 3% in 2016 to 7% in 2018. Matte nickel and polished chrome are the most common metal finishes.
Link to Article