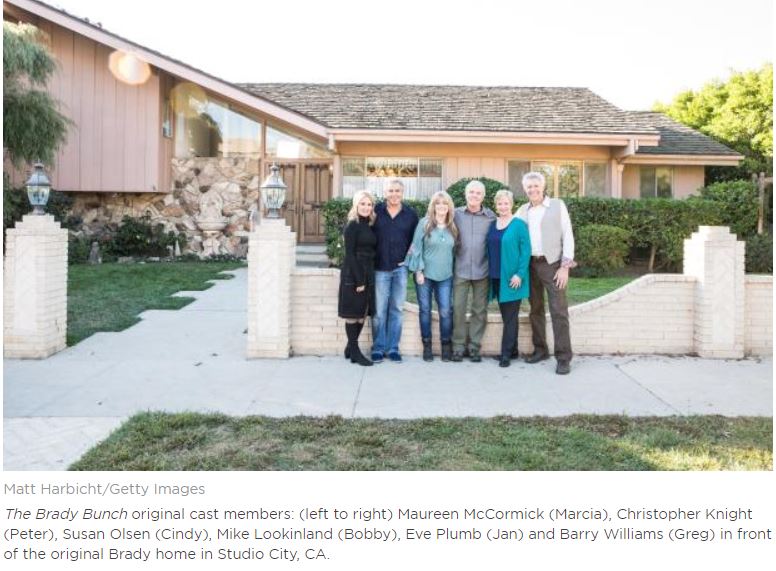 There's something fabulously far-out happening at HGTV. Maybe you've heard the rumblings. The network has purchased one of the most universally recognized homes in America — the 'Brady Bunch' house — and plans are underway to restore it to its full, resplendent, unabashedly '70s grandeur.
So, here's the story. (Surely you didn't think we'd pass up the opportunity to use that line.) Back in August, HGTV officially became the proud new owners of that quintessentially suburban split-level ranch seen in virtually every episode of The Brady Bunch. And you can rest assured that, with its penchant for magical, mind-blowing home makeovers, the network has some very special things in mind for this particular home transformation.
It's all part of — and will be documented in — a new series, A Very Brady Renovation (w.t.), scheduled to air on HGTV in September of 2019. And we suspect that even the most ardent Brady Bunch enthusiasts and purists will not be disappointed.
As one of the biggest programming events that HGTV has ever undertaken, the high-profile renovation will feature additional celebrity guests and drop-bys throughout the course of production. Already stirring up social media buzz from fans and A-listers alike, the upcoming series will showcase the famous house as it undergoes a full-blown '70s-inspired rehab with input from some of HGTV's most recognized design talent.
"What's so exciting about this project is that we are creating one of the most iconic homes from many of our viewers' childhoods," said Loren Ruch, senior vice president, HGTV programming and partnerships. "It will be the first time in history that the house from all of our memories will be created in a real brick-and-mortar location. It is certain to be a trip down memory lane."