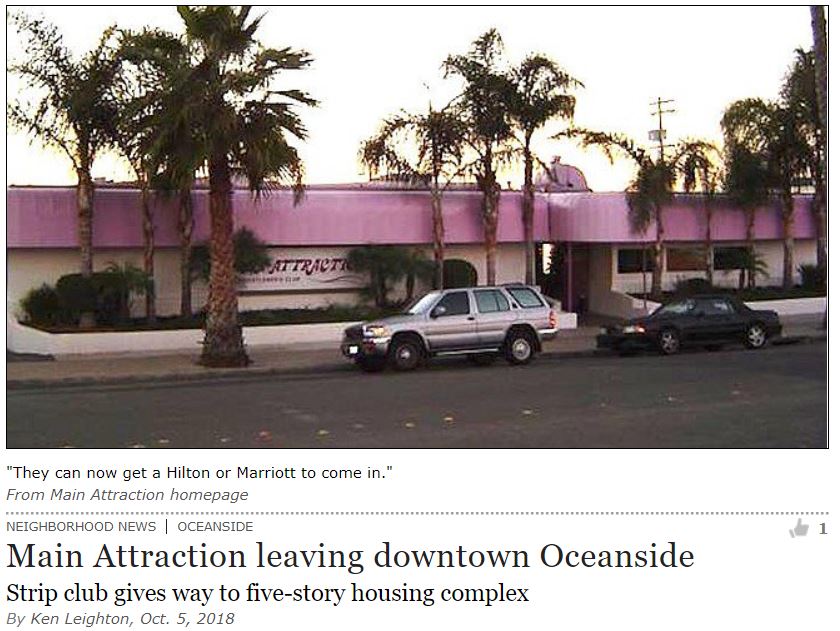 OK, now this gentrification stuff has gone too far. Hat tip Laker Joe!
Gentrification has accomplished what eluded city bureaucrats for decades.
Oceanside's Main Attraction, North County's only remaining topless club, is going away. A five-story 308-unit, apartment complex is proposed as its replacement.
Known to locals as "the purple church," the Main Attraction bar and restaurant hosts between eight to 20 ladies a night who dance on stage around a brass pole while a DJ spins "Cherry Pie" or "Pour Some Sugar on Me." Admission is $11 every night after 6 pm but $14 for the once-a-month "amateur night." Dancers are topless but never fully nude. Once inside, patrons are frequently asked if they would to pay extra for a private lap dance.
"It is my understanding this property is being sold to a developer," says former mayor Terry Johnson who adds that getting the topless bar off that city entryway will be good for the whole street. "I am sure things will now start moving with the [long closed] Bridge Motor Inn property [to the north]. They can now get a Hilton or Marriott to come in. And things will start moving with the Motel Six property and the vacant Mira Mar building to the south."
Link to Full Article