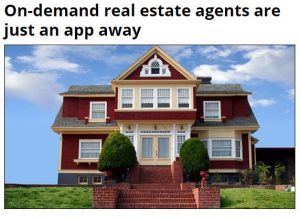 At least you get to choose the realtor, instead of getting stuck with whoever shows up. I was able to install the mobile app from the Play Store but couldn't get it to work (I'm rocking the Pixel 2 now). Hat tip Eddie89!
You've hailed rides using a mobile app before, but have you hailed real estate agents on one? If not, a new tool called ArriveHome seeks to change that.
A new app called ArriveHome is looking to streamline the real estate market. Designed for buyers who don't yet have an agent or those who want to browse a home ASAP, ArriveHome makes finding a Realtor and scheduling a showing instant and easy.
Upon seeing a home they like, buyers log onto the app, browse the many "live" agents listed in the area and choose one they want to work with based on their profile and details. Next, they can click to text or call the agent and schedule a showing on the spot.
According to Jeff Narlinger, co-founder of ArriveHome, the app will help speed up the often slow showing process.
"[We are] melding the 'on-demand/Amazon effect' into real estate, giving the consumer faster, easier access to properties," Narlinger said. "No more sign calls or long e-mail threads that do not get returned quickly enough."
The app isn't just for the buyer, though, Narlinger said.
"Basically, what Uber did for the Taxi Industry, in providing efficiencies and advantages that both providers and consumers never knew they needed, that's the impact we believe ArriveHome will have on the residential real estate industry in its benefits to the home search process for both agents and consumers alike," he said.
ArriveHome is currently available in Colorado, California and Arizona on both iOS and Android devices. The company plans to expand to Nevada and Texas next.
Link to Article