More news today on the surge in home pricing, with Diana happy to point out that half of the nation's 50 largest markets are now considered overvalued, meaning home prices are at least 10 percent higher than the long-term, sustainable level.
"The dream of homeownership continues to fade away for the average prospective buyer. Lower-priced homes are appreciating much faster than higher-priced properties, making the affordability crisis progressively worse," said Frank Martell, president and CEO of CoreLogic. "CoreLogic's Market Condition Indicators now indicate that half of the top 50 markets in the country are overvalued because home prices in those areas have risen so much faster than incomes. This is clearly an unsustainable condition that can only be remedied by aggressive and coordinated public/private sector actions."
Looking ahead, the CoreLogic HPI Forecast indicates that the national home-price index is projected to continue to increase by 5.2 percent on a year-over-year basis from March 2018 to March 2019.
~~~~~~~~~~~~~~~~~~~~~~~~~~~~~~~~~~~~~~~~~~~~~~~~~~~~~~
The concern about overvalued areas is probably coming from the other states whose prices are substantially above the last peak.  Or in other words, it's always been crazy in California, and we're used to it! Click on image: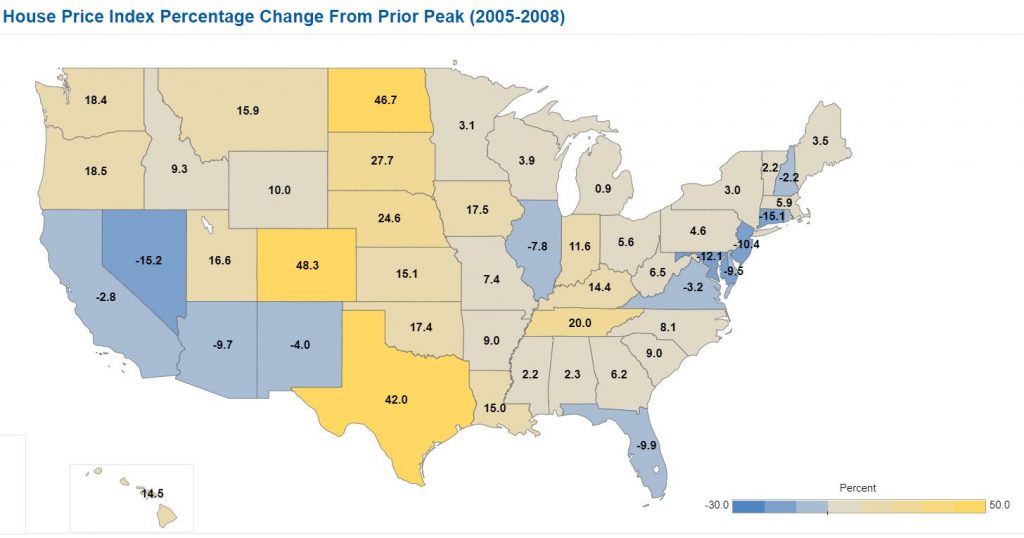 While this map makes it look like California is lagging behind Texas and others, we probably had a higher peak, relatively.  Most of the subprime lenders with no-doc and neg-am loans were in California, and sales and prices were very bubblicious. This time it's different!
Link to Website