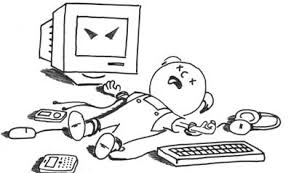 A reader sent these in:
Jim – I have two questions.
Do you think that technology has helped the more successful agents to the detriment of the lower half of the agent pool who have less $ to invest in things like Zillow's premier agency and what not. And if the haves continue to take share of industry sales, do you think that ultimately increases their leverage over the brokerages/allows them to get better splits?
I work in the investment management industry and have been looking at Realogy as a potential investment but can't quite wrap my head around what technology ultimately does to the brokerage model over the longer term but guessing it at a minimum drives commission splits higher in the favor of the agent.
My answer:  The top agents have always spent more on their business, and 'technology' is just the latest shiny object.  As agents get better at generating their own clients, then yes, they will insist on better splits or go to other brokerages that offer a more-profitable package.
There is a push for all brokerages to offer an 'improved technology package' to their agents, in an attempt to retain them – and it will be the recruiting tool for the foreseeable future.
Realogy survives just on their sheer numbers – they have 272,300 agents working in 14,100 offices around the world.  It would take years to disrupt it, and in the meantime, they will offer technology to their agents at a reduced commission split.
But will that technology make a difference?  Will those traditional agents implement this 'technology' effectively, and be able to out-run the barrage of disrupter advertising?
The hot technology topic today is AI; artificial intelligence.  Several programs are in the market now that can predict (allegedly) who is thinking of selling their home, based on the homeowners' Facebook patterns and other internet use.  Those who are searching for homes on the internet are bound to be moving soon, right?
I am extremely skeptical of this AI being just the latest junk to sell realtors who are notorious for blowing money.
I was a brief customer of SmartZip, who promised to use their advanced technology to predict who will be the next homeowners to sell in my designated area.  They gave me the list of the Top 20%, and I went to work.  Of the people I spoke with, none of the Top 20% were thinking of moving, and the four people who were thinking of moving weren't on the list.  I cancelled my subscription.
It might be worth it for you to look at it from the consumers' perspective.  Will they believe the lies and deceit they are being fed through disrupter advertising, or will they thoroughly investigate all of the choices available?
And then a more hypothetical question is do you think a buyer's agent fees would be 2-3% of the purchase price if the buyer was forced to pay it out at the close? Been looking at the UK real estate market and there is no such thing as a buyer's agent in that market – everyone finds their properties on Rightmove.
Thanks as always for your thoughts/opinions!
My answer:  No, I don't think buyers would pay 2-3% themselves when they think all they have to do is follow their favorite real estate portal to find a home.  But no attempt is made to explain why the sellers should pay a hefty 'bounty' or reward to a buyer's agent for bringing the buyer.
The trend is to reduce commissions, but incentivizing agents to sell your home for top dollar is worth considering, because the highly-motivated buyers – those who pay top dollar – find a realtor to assist them.
There is a notion – pushed by the disrupters – that houses sell themselves, and every agent sells them for the same price.  But there is a 5% to 10% range for every house, depending on who is selling it.
I'm just getting started.  More posts coming on the future (i.e. Redfin, etc.).